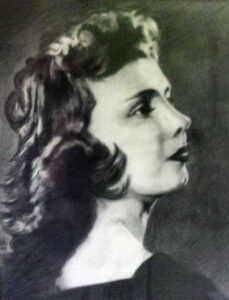 By Karen Dyer
Music and basketball are not often volleyed about in the same conversation, unless you are Coach Duane Klueh, who remembers it being a perfect combination with wife Mary Alice.
Duane recounted, "We were both in chorus at the lab school [the former Indiana State Laboratory School]. That's how we met," adding with a chuckle, "But, I couldn't sing."
In February, Duane lost Mary Alice, his lifelong love, at the age of 91.
Mary Alice's passion for music inspired her and Duane to make a gift of $100,000 to Saint Mary-of-the-Woods College (SMWC), endowing the Mary Alice Shannon Klueh 1948 and Duane Klueh Scholarship for students from the Wabash Valley to study music therapy. The Kluehs set up an annual scholarship several years ago, making a promise to fully endow it with this annuity gift upon her death.
A music alumna of the class of 1948, Mary Alice loved her experience at The Woods, said Duane. "She was very close to many of the Sisters. We were always on campus attending some performance or doing something."
Mary Alice made music a part of their daily lives, Duane said, as he remembered one of her favorite Don McLean songs, "And I Love You So." "She had a wonderful voice," he said. "She was beautiful and sang as a cantor for many years."
A life-long member of Sigma Alpha Iota Music Society, Mary Alice took part in many of its concerts and activities. She was lead in two light operas, "The Student Prince" and "The Vagabond King" in 1950, and sang on a local radio station in the 1950s.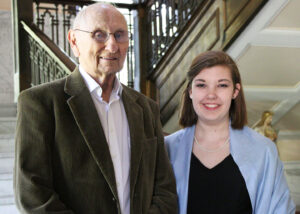 Duane, a stand-out collegiate basketball player for Indiana State Teacher's College (now Indiana State University) under Coach John Wooden, is a life-long educator, coach and loving husband who has found his own passion for music and has the music of Don McLean, traditional Irish tunes or one of his children's CDs always playing from his Bose speaker, Mac computer or the television. Two of their seven children are musicians and songwriters.
So when it came time to think about the legacy they would leave behind at The Woods, it was no surprise that Duane and Mary Alice decided there would be a place for music education in their personal philanthropy. Together, they set up a scholarship at her alma mater, and one at his for basketball.
"My mom and dad thought a lot of education," Duane said. "Just the idea that someone might not be able to attend college because they cannot afford it…I can't imagine. I'm glad we could do this."
The high school sweethearts would start their lives out together on the road as Duane went on to play for the NBA's Denver Nuggets and Fort Wayne Pistons, with Mary Alice with him all the way. Following his basketball career, he taught and coached basketball in high school and later basketball and tennis at his alma mater Indiana State University for 34 years before retiring. Basketball, tennis, music and education were all a part of his daily fabric with Mary Alice and their family.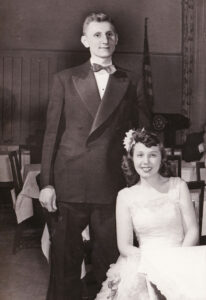 "In the end, music was there for her." Duane said. His and Mary Alice's daughter Mary Klueh, a musician and song writer from Minneapolis, Minnesota, played guitar and sang for her mom just before she passed. "I could see it in her eyes," said Duane. "The music made such a difference."
The College honored Mary Alice's memory and her and Duane's philanthropy following the Spring Choral Concert in April.
"This scholarship connects me to an awesome legacy. To know that I am receiving this from an alumna who attended in the '40s, and that her husband is carrying out her love of The Woods through helping others attend who love it as well, is truly amazing," said Terre Haute resident Allison Payonk, a recipient of the Klueh Scholarship.
"To me, it shows so well the connection we have with the Woods while we are here and with all of the women and men who have come before us … and are still a part of our journey," she said.
SMWC Music and Theatre Department Chairperson Tracy Richardson, Ph.D. said scholarships are vital because they attract excellent musicians who are also academically serious students.
"Awarding scholarships shows students that we recognize their skills and talents and believe in their potential," she said. "At the same time, it allows students to relax a bit more; they can focus on their education and less on the financial aspect of college knowing that every dollar gained in scholarship is a dollar they don't have to add to their college debt."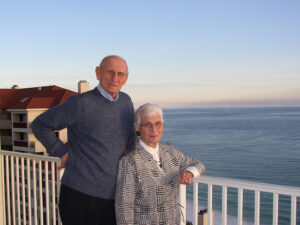 Music therapists are healthcare professionals who help people of all ages, abilities and diagnoses. One of the benefits of music therapy is that people often see it as non-threatening.
Richardson explained, "By relating to a patient through their music, music therapists can help children with autism to communicate with others. They assist persons with neurological difficulties, such as stroke victims, to regain a smoother gait by using the rhythm of music to accompany walking. They help veterans express and deal with traumatic events through songwriting. They help children with special needs work on social skills through music making."
A broad range of goals can be addressed through music therapy, making it a flexible and personalized approach to helping people with a variety of healthcare needs, according to Richardson.
She adds, "We are truly grateful for all of our music scholarship donors. Their investment in our students allows them to pursue their dreams."
SMWC has one of only a handful of music therapy programs in the nation, which includes an undergraduate, graduate and online equivalency program – the first of its kind in the nation. The Klueh Scholarship will help to further distinguish this program at SMWC.