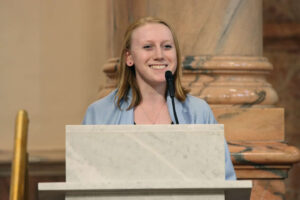 Music has always had a strong influence in my life, and I have always dreamed that I could land in a career in which I could make music. In my junior year of high school, I began researching possible careers through which I could make the lives of others better in some way. At this point in my life, I had been volunteering at a facility that utilized art therapy, and it was through this facility that I first heard of music therapy. This intrigued me because it sounded like a career path in which I could use music-making to potentially improve the lives of those in need. This research led me to The Woods, and two years later, I am at my happiest knowing that I can call this place my home. On my first visit to the campus, I met the music and theatre department faculty and realized that I wanted to learn even more about this career path. I was given the chance to see a music therapy session, and it was at this exact moment that I wanted to pursue this career.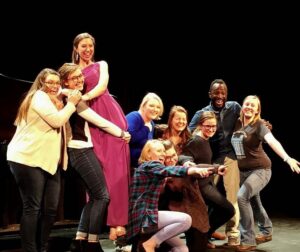 Since the start of my first semester in the program, I can say this program is where I am meant to be. I have gained an abundance of knowledge, experience and skills in my two years, and I have so much more to learn. I have thrown myself head first into all of my research, and every day I learn something new about this incredible field. Music therapy, in my own words, is using music to communicate across diagnostic barriers in order to reach specified goals that have been set by a board-certified music therapist.
One of my favorite aspects of this field is the individuality of our members: no two music therapists will ever be the same in their approaches. This unique field embraces who we are as people and encourages us to find our own paths in our career. Here at Saint Mary-of-the-Woods College, I have been given the opportunity to participate in practicum class, in which I have supervised music therapy sessions once a week, and I have learned how to properly document progress, create client-specific objectives and goals, and build my music and facilitation skills. Some colleges with undergraduate programs in music therapy do not give their students the chance to experience practicum until much later in their studies, whereas students of The Woods are allowed to start as early as the second semester of their freshman year, as long as all classwork necessary has been completed.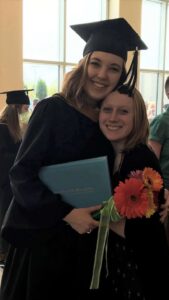 I am beyond thankful that I was given the opportunity to study music therapy at such a unique college, especially because of the size of our campus. Our program is not filled with hundreds of people, and that gives each of our students an opportunity to receive individualized help from our professors. Along with this, our students are often together for the majority of the day from class to class, and this creates a bond that other students do not experience. We can gain great friendships through musical interactions, from practice time and concerts in Chorale, Band, and Madrigals, to impromptu jam sessions on Fridays. Some of the best friends I have in my life have come from my time in this program, and I am so grateful for my time at The Woods thus far. The next two years will hold so many opportunities, and I cannot wait to continue to work hard to achieve my goal of becoming a board-certified music therapist. This year, I am serving as the president of our Music Therapy Club, and I am incredibly excited to share musical experiences with friends, to work together with other clubs and associations, and strengthen our presence on this campus. Our program is incredibly special, and I am proud to be a Woodsie!
---
About the Author
Liz Yeazel
Liz is a Junior in the Music Therapy department, and she is a resident assistant for the 2018-2019 school year. She is president of Music Therapy Club, and she loves making music with others. When she isn't studying or making music, she is going on hikes and exploring. She is excited to receive her ring in the spring, and to gain new experiences throughout the new year at the Woods!