By Joel and Beth Allard Yoder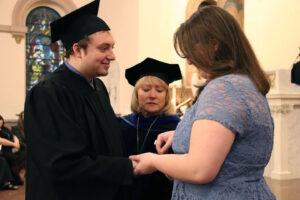 Beth: The reporter pulled me into the alcove just before the ceremony started. A "few quick questions" turned into a rapid-fire recap of the last four years of our lives—how I had gone from a ring recipient myself in 2014 to now waiting my turn to present my husband with his own as he worked to finish his master's degree in leadership development. As I took my seat among the co-presenters, one of his final questions lingered: "Does it feel a little weird?"
As the ceremony unfolded, I reflected on all the changes that surrounded me: I had passed from student to alum, back to student again for my masters. I had become an audience member, listening to Chorale sing instead of standing in my usual spot among the altos. Just that morning, I was straightening someone else's cap and gown instead of my own. I watched students who I had given Admission tours to congregate in the hall to receive their rings, and it filled me with a mix of pride and longing. A part of me bubbled up with emotion: can't I just go back and do it again?
And then they called Joel's name. I watched the same guy who had been dubbed an "honorary Woodsie" by my friends – the kid who had tagged along to my visit day, came to every choir concert, brought Chinese food to Le Fer during finals, offered to clean up after student events and in so many other ways made SMWC his home while we dated in college – stand there beaming as he awaited his turn. As I hugged him after placing the ring on his finger, all my fancy words disappeared. All I could say through my tears was "it's about time!"
Joel: I believe I was always meant to be a Woodsie – I'd call it Providence. While Beth and I were in college, I didn't expect we would end up staying in Terre Haute, much less working at SMWC and completing master's degrees four years later. Walking up the middle aisle of the church to the Woods Wedding March on a chilly spring Saturday felt like it was always meant to be.
My ring is a promise. When I felt I had hit a wall with my thesis, I looked at my ring and knew I had to push onward. Now as both an alum and staff member, it is a reminder to hold on to everything I have learned here at this place, both as an unofficial member of The Woods community during my undergrad years and later as a student. Even though I didn't know it on that first visit day tagging along with Beth, The Woods was always meant to be my home.
Beth: I looked at his hand beside mine afterward, his gold ring beside my silver. "Doesn't it feel a little weird?" Actually, it couldn't feel more right. In that moment, presenting the symbol of the College I loved so much to my husband, I was in awe of the way Providence had shaped our lives. After all, we two were always a team of Woodsies; we just had to make it official.
Rise up, follow me,
Come away is the call,
With the love in your heart as the only song;
There is no such beauty as where you belong.
– "The Road Home" by Stephen Paulus
---
About the Authors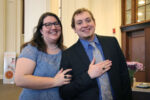 Beth Allard Yoder '15

Beth is an undergraduate alumna and will graduate with her
Master of Arts in Music Therapy
in December 2019. She is still actively involved on campus as a graduate assistant and a member of the SMWC National Alumni Association Board of Directors. Beth is a board-certified music therapist and owner of her private practice, Three Keys Music, LLC. In between all of the homework and small business hustle, she enjoys a wide range of nerdy activities — everything from gaming to collecting typewriters.
Joel Yoder '18G
Joel is an alumnus of the Master of Leadership Development program and has been serving as the college webmaster since 2016. He is also a tenor in the Woods Vocal Ensemble. When he is not working on making the website awesome, he likes to spend time gaming with Beth and listening to podcasts.