By Callan Taylor
I heard about the beloved tradition of the Woods Ring my first day on the campus of Saint Mary-of-the-Woods College. I had my "Avenue Moment" during my Pomeroy Preview Day and knew that this was the place I was meant to go to continue my education. I fell in love with the beautiful campus, history and traditions. I also fell in love with the Woods ring and started a "countdown to Ring Day" on my first official day as a student.
For the past three years, I have been fortunate enough to be a part of Ring Day, two years as an usher and the other as a ring recipient. It was fun participating in the ceremony as an usher, even if I had to tear down a hundred chairs afterward. I watched the recipients receive their rings after years of anticipation. I was able to talk with family, friends, faculty and staff who all gathered together to show their support. I heard the "Ring Song" fill the Church and that's when I realized how special this day is to everyone involved.
Then, all of a sudden it was my turn to receive my Woods ring. As junior class president, I worked with fellow officers all year to prepare for this momentous occasion. We were able to place each ring on the ring tray and couldn't resist trying on our own rings a day early. I was able to hand President Dottie L. King, Ph.D. each ring to place on the recipient's finger. I watched recipients cry out of happiness and smile with joy. The day all of us had been hearing about since coming to the Woods was finally happening. We all joined the legacy.
Next, it will be my little sister's turn to be a part of this tradition, and I hope she enjoys the day and memories as much as I have. She has followed in my footsteps and has a countdown as well! We have grown closer together because of our beloved College and community. I have been able to share some of my favorite memories with my sister, and that is something I am so grateful for.
The Woods Ring might seem like just another piece of jewelry to anyone else. But to me, the black onyx and gold ring is a symbol that connects generations of Woodsies together. It has brought me closer to my sister and those who have attended the Woods. It represents our journey from small acorns into mighty oak trees.
---
About the Author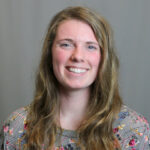 Callan Taylor
Callan is a senior, studying elementary education at Saint Mary-of-the-Woods College. She is active on and off campus. She is a member of the basketball team and president for the senior class, while also working for the Office of Admissions as an ambassador. She plans to continue her passion to teach and hopefully find a teaching job in the surrounding area. Callan loves to be outside, read and be with friends.