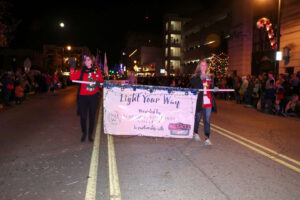 Holiday cheer will be on full display as Saint Mary-of-the-Woods College (SMWC), in partnership with Miracle on 7th Street, presents the Light Your Way Christmas Parade. The third annual parade kicks off 6 p.m. Saturday, Dec. 8, 2018. The parade route will begin at the intersection of Fifth Street and Wabash Avenue, heading east on Wabash and continuing until 9 ½ Street.
Thousands of residents, including many families, are expected to line the streets of downtown for the parade, which may include approximately 70 entrants. The parade plans to showcase the community's Christmas spirit with holiday lights illuminating from the floats and marching bands filling the streets with the magical sounds of the season. Among the parade participants are universities, colleges, high schools, churches, various organizations, SMWC's horses, and of course, Santa Claus.
The area between Fifth and Sixth streets will be designated a sensory friendly block, with no music or candy. The space will be clearly identified for families and individuals who may have sensitivities to music or food allergies. This will create a less stressful and overwhelming environment.
The planning for this student-led parade began five months ago. This year's student organizers Maddie Stuck and Jonathan Utz, invited groups, organizations and businesses to participate in this community tradition.
"Last year I became involved with the parade because of my love for the community," explained Stuck. "Planning the parade can get very hectic with my nursing classes, but it is so rewarding when you see the excitement on the little kids' faces."
Utz, a business major, echoed a similar sentiment. "Staying organized has helped a lot when it comes to balancing between the parade work and school work. I agreed to help with this parade because I want to be more involved in the community, and what better way to do so than be a part of this magical event in Terre Haute!"
Entries are still being accepted.