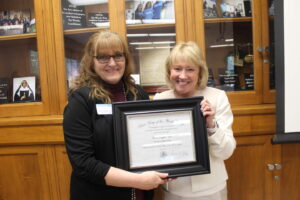 Darla Hopper, associate vice president for financial aid and admissions, was honored with the Saint Mary-of-the-Woods College Aspire Higher Award by President Dottie L. King, Ph.D., on Friday during the general session meeting of the SMWC Board of Trustees. The President's Aspire Higher Award honors leaders from the community and from the College who prove a passion for using the present to create a better future.
Hopper, who has been working at SMWC since 2009, is an asset to the College. During her early years at The Woods, she implemented new financial aid processes resulting in recent years of clean audits. She also studied the enrollment patterns and compared them against FAFSA information to create a matrix for enrollment that is unique to SMWC.
In addition, Hopper worked with the offices of advancement and enrollment management to restructure the awarding of endowed and merit scholarships to maximize enrollment. She was instrumental in developing an enrollment strategy for Twenty-First Century Scholars and the implementation of the Pomeroy Scholars program. Most recently, Hopper negotiated a partnership with the owners of McDonald's restaurants in the Wabash Valley to take advantage of the employee tuition program to bring talented McDonald's employees to The Woods.
"She has distinguished herself as a leader who is student-centered, determined to solve problems and committed to finding innovative ways to strengthen our College," King said during the award presentation. "Darla, thank you for your "can-do" spirit, your care for our students and your dedication to Saint Mary-­of-the-Woods College."
Hopper is the 8th recipient of the Aspire Higher Award and the first employee to receive it.