---
By Dianne Frances D. Powell 
A Saint Mary-of-the-Woods College welcome has several parts: band music, crowd cheering, Pomeroy blue banners, pom-poms, some bubbles and a warm handshake from President Dottie L. King, Ph.D., right on The Avenue.
These are exactly what the members of the class of 2022 —and their parents — received when they entered SMWC's iconic gates on Thursday for Move-In Day.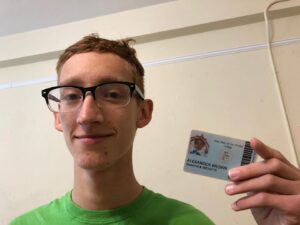 For one freshman, Alexander Trindle-Brown of Indianapolis, it was a return to a place he called home.
Brown had spent approximately three years living on the upper levels of Guerin Hall with his mom, Danae Brown, when she was a student in the Saint Mary-of-the-Woods College Student Mothers Program. This program, which gave single mothers the opportunity to pursue full-time study while living on campus with their children (ages 3 to 10), has been discontinued. Brown says she was one of the last graduates of the program; She completed a degree in elementary education in 2006.
With his old SMWC ID, which he received when he was about 3-years-old, still on hand, Alexander Brown moved into Le Fer Hall to start his own educational journey at The Woods. Also with him were special SMWC memories. "He went around all the administrative offices in Guerin Hall to say hi to the staff [daily]," Danae Brown said while in her son's dorm room on Thursday. "They might remember him," she added laughing.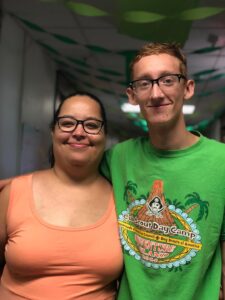 The campus may be different from what little Alexander Brown can remember but he is ready to make new memories on his own at The Woods. He says he's always felt a special calling to attend SMWC He loves the small campus, the camaraderie and everything The Woods stands for.
Another freshman, Irisa Brown of Brownsburg, cheerfully moved into Le Fer Hall eager to pursue her dreams of becoming a pediatrician. She is a pre-professional studies major and a recipient of a full-tuition scholarship made possible by a partnership between SMWC and the Center for Leadership Development, an Indianapolis-based youth organization. Brown said she values the close-knit family environment at The Woods, which is one main reasons why she chose to attend.
In addition to the personal attention at The Woods, SMWC was also chosen by the family because it is a faith-based school, said Iris Givens-Brown, Irisa's mother. "We really believe, from what we've seen, that this environment will nurture her," she said.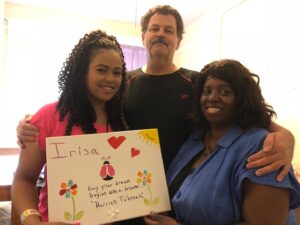 On this special moment, she advised her daughter to continue to put God first. "Embrace people in every way that you can. Just know that God doesn't bless you based on what people do or how people treat you but how you treat others," she told her.
It was a bittersweet day for students, parents and other family members. Tyra Lambermont of Jasonville, a nursing major, was both "excited" and "a little bit nervous." She was sad to leave her friends but she's comforted by the idea of living with one of her best friends in Le Fer. She looks forward to adventures that come with living on her own.
Two hundred freshmen and transfer students now call The Woods home, which represents a 17 percent increase over last fall. This number, combined with 240 returning students brings the total campus enrollment to 440, the largest since 1969 with 445 campus students.
Another 350 online undergraduate students and 216 graduate students will bring an expected total population of 1,006 for the fall semester, said Brennan Randolph, vice president for enrollment management and institutional technology.  This is a 5% increase from last fall.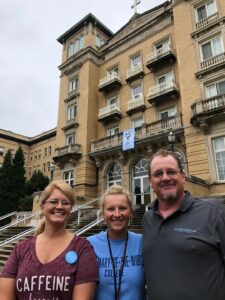 After the morning Avenue welcome, the campus community, new students and families, gathered for lunch in O'Shaughnessy Dining Hall. Later in the afternoon, this same community packed the Church of the Immaculate Conception for the opening ceremony and blessing of new students and families. The program included a reading from the history of the Sisters of Providence and the Psalms, promises made by new students, faculty, staff and parents, as well as a welcome and blessing by Joan Slobig, SP, '64. During the ceremony, Randolph officially presented the class of 2022 — symbolized by 200 acorns in a special box — to President King.
King expressed her excitement at seeing the fresh faces at SMWC, a special place with deep history and long-standing traditions. In her address, she told the students to enjoy their Woods journey because four years is going to go faster than they think. She encouraged them to let The Woods be a part of who they will become in the future. "Ask questions. Challenge us. We'll certainly challenge you," she said. "We're small. We care about each other. Each one of you matters."
---
Fall 2018 Enrollment
Expected total enrollment (campus, graduate and online): 1,006
200 new students (18 percent male and 82 percent female; 82 percent are from Indiana)
160 first time freshmen
40 transfer students
350 online students
216 graduate students
Students from 11 U.S. states and Canada
60 athletes including the new men's soccer team
Most popular majors for campus: nursing, education, business, equine studies, biology, criminology.
Additional Coverage
See more photos on Flickr