This summer, Saint Mary-of-the-Woods College students, faculty and staff made the world their classroom. Three faculty-led trips abroad brought Woods students to Europe for a variety of good reasons: a choir tour, equine learning and cultural immersion.
"Providence Moment"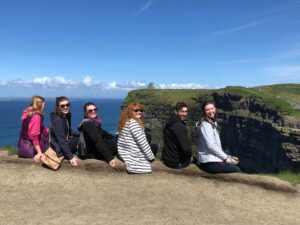 The SMWC Madrigals celebrated its 60th anniversary with a tour of Ireland, featuring concerts in Kinsale, Killarney and Dublin. The concert in Kinsale was particularly special for the singers because Kinsale was the birthplace of the mother of Madrigals founder Marie Brendan Harvey, a Sister of Providence and 1951 graduate of SMWC.
Michael Boswell, associate professor of music and organizer of the trip said this was the Madrigals' first choir tour of Ireland. Previous tours have brought the elite SMWC group to Austria, Canada France, Germany and Italy. This was the second international choir tour led by Boswell. Seventeen student singers (11 in Madrigals), 4 alumni singers and 10 relatives also participated.
In arriving at the decision to go to Ireland, Boswell said it was a "Providence moment."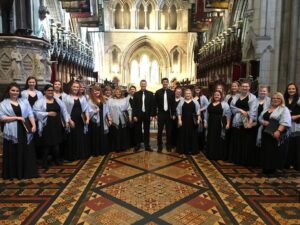 "I wanted to celebrate the 60th anniversary of the formation of Madrigals in 1958 in a big way," he said. "As of January 2017, I still had not decided where the tour for 2018 should take place. Then, I attended the funeral of Sister Marie Brendan Harvey, who founded the Madrigals in 1958. As I thought about her life and her contributions to the College, a light bulb went off!
"I knew that she had roots in that part of the world, and I thought how great it would be to go there to celebrate her founding of the Madrigals. …Upon further research, I was able to find that her mother had been born in Kinsale, County Cork, Ireland. Thus, our very first concert in Ireland was presented in that small coastal town."
Boswell says the participants gained rich experiences from the tour.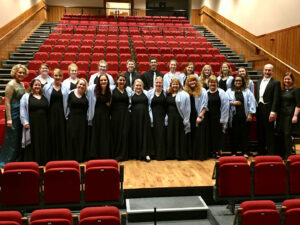 "First, it was extremely educational, of course; from many of the sites we visited they learned a lot about Irish history and culture, world history and Celtic spirituality. I think one of the most poignant educational stops on our tour was the Cobh Heritage Center, which was enlightening about the immigrant experience over the centuries. Second, I think there is something very natural, peaceful and spiritual about the landscape of Ireland that all of them would probably state they experienced," he said.
"Third, without a doubt they grew stronger as a community and as a group of musicians. As their director, I could see and hear their individual and collective growth, as well as their relationships with each other. There is something about the performing of music with others, especially in beautiful and historic spaces, that deepens the connections to others. The benefits of those shared experiences is indescribable and immeasurable."
Several students, including Allison Payonk of Terre Haute and Karen Muñoz of Brazil wrote about their experiences in blog posts.  "Overall, the trip was one I would take again, if I could. I can honestly say that I thoroughly loved every minute of every moment in every place we had been. I learned so much about Ireland, about the people I was traveling with, and about myself, and I wouldn't give any of that up for any amount of gold in the world," Muñoz wrote.
Understanding the horse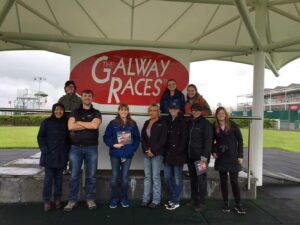 Also in May, more than half a dozen students and faculty proudly carried the SMWC banner as they visited a variety of sites in Ireland that hold particular importance to the equine industry.
Debra Powell, Ph.D., associate professor of equine studies, led the two-week trip with educational and cultural components. It was quite the adventure, she said.
"Ireland is home to approximately 124,000 horses and it is the third largest producer of thoroughbred horses in the world (the U.S. is #1 and Australia second). Racing in Ireland is a multi-billion-dollar industry and the Irish bloodstock breeding and racing is a major national important area of employment for this country," Powell says.
"Learn International, under the leadership of its director Chris Lawlor worked with me to designed the program to compliment the students' academic studies with real world, international examples and experiences and to showcase the equine industry in Ireland. The program also offered the students some valuable insight into Ireland's culture and ancient heritage."
---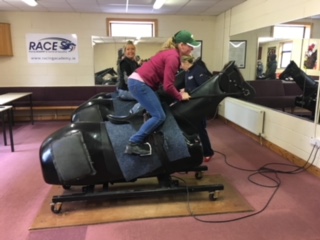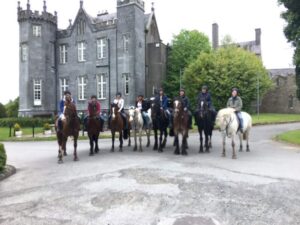 The equine sites they visited include the National Stud in Kildare, the only thoroughbred stud farm in Ireland that is open to the public; Competition Connemara pony breeder Gloria Nolan in Carlow; Irish Welfare Trust, Ireland's largest dedicated equine charity; Polo Wicklow in Wicklow; Kildangan Stud, thoroughbred home of the Darley stallions in Ireland; Racing Academy & Center of Education, the world center of excellence in training of jockeys, stable staff and racing personnel; Troytown GreyAbbey Equine Veterinary Services, the state of the art equine veterinary hospital with services for orthopedic surgery, MRI, Nuclear Scintigraphy, high speed treadmill, neonatal unit, intensive care unit and alternative medicine; and Coilog Equestrian Center in Kildare, a world class facility that hosts showjumping, dressage, combined training and equestrian clinics. The facility had a training show jumping show going on upon the group's arrival.
"I have gained a better understanding of the horse, the world, different cultures and even myself," said student Kascha Smith of Brazil, Indiana. "I would most definitely go on another faculty-led trip. All of the faculty defaulted as our moms away from home as soon as we got on the plane. All of us who went grew very close and really enjoyed getting to know each other."
Life-changing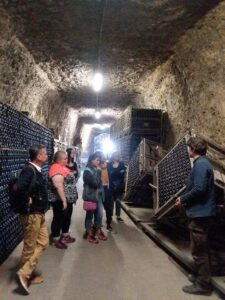 To the south, another SMWC group explored all things French. Monica Baez-Holley, Ph.D., associate professor of French and Spanish, led a group of eight participants on a nine-day visit to France. They saw many of France's famous spots including Notre-Dame Cathedral, Place de la Concorde, Eiffel Tower, Hotel des Invalides, the Palace of Versailles, Chartres Cathedral, Mont Saint Michel Abbey, the beaches of Normandy and the Normandy American Cemetery and Memorial.
Baez-Holley said France was the ideal destination because the students, French minors, had the opportunity to practice what they learned over the last four years. "They also had the opportunity to immerse themselves in the French culture," she said.
One of them, Karah Ellis of Terre Haute, wrapped up her college experience with this unforgettable trip. "I have always had an interest in French culture, which then became a deeper connection in college when I decided to minor in French. Throughout my French classes and weekly lunch conversations with my French professor, I fell more and more in love with the language. I graduated in May and I knew I wanted to travel to France and be immersed in its culture as a way of finalizing my college experience and as a chance to practice the language. Doing it through [this] faculty-led program with a group of other SMWC students and professor was the perfect opportunity," Ellis said.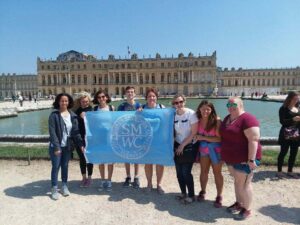 But while the rest of the group went back home after nine days, Ellis' French exploration continued. "I decided to extend my trip in France into a 2.5-month long journey that took me to the Sisters of Providence at Ruillé-sur-Loir (where Saint Mother Theodore Guerin became a sister, walked, prayed, and had to heartbreakingly say goodbye before she came to Indiana), to Toulouse, for a French class, and numerous other French cities," she said.
As she traveled home, she felt like a different person. "My life has been changed by my moments in France that all started with a decision to minor in French and then the opportunity presented by SMWC to go on the faculty-led trip. There have been numerous lessons learned and so many beautiful experiences that will stay with me for the rest of my life. I've realized much about myself and much about the world that I think one can only do when away from all of his or her comforts. This trip has shown me, first-hand, how vast the world is, yet also how intimate it is at the same time."