By Dianne Frances D. Powell
Education is one of life's most important treasures, and with this belief, Saint Mary-of-the-Woods College alumni continue to share the legacy of an SMWC education with other members of their family.
With the arrival of her triplets to start freshman year this fall, Jessica Olsen Simmons '72 can proudly say the legacy of a Woods education continues in her family. This tradition began with her mother, Virginia Cole Olsen '40 and was then passed down to Simmons and her sister, Mary Olsen Mourglia '74. Now, Ashley, Christopher and Hailey Simmons of Homestead, Florida, are carving their paths through these Woods.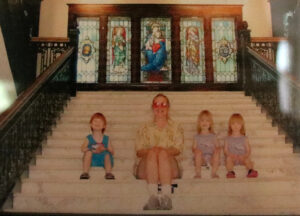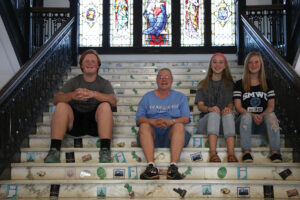 Simmons said she and her husband, Brian, have been talking about the possibility of the triplets coming to The Woods since they were born because they strongly believe in a quality Christian education and the personal attention it provides. This belief stems from Simmons own personal experiences while attending.
"For instance, when I was a freshman, I had my appendix taken out and ended up in a hospital here [the former infirmary on campus] … and my teachers came [everyday], gave my [lessons] right there in the infirmary. I never missed a beat," said Simmons, an art education graduate.
But Simmons wasn't the only alumna who recently joined the ranks of Pomeroy parents to drop off their daughters and sons at this fall's orientation. Another SMWC graduate was happy for her son to be back home.
Danae Brown lived in Guerin Hall with son, Alexander Trindle-Brown, when she was a student in the SMWC Student Mothers Program. This program, which gave single mothers the opportunity to pursue full-time study while living on campus with their children (ages 3 to 10), has since been discontinued. Brown says she was one of the last graduates of the program; she completed a degree in elementary education in 2006.
Now a college freshman, Indianapolis resident and graduate of Carpe Diem Innovative School-Northwest High School, Trindle-Brown recently moved into Le Fer Hall. "For me, it's very touching," Brown said. "It was a last-minute decision for him. When he decided, it felt good. It felt like this was home."
The campus may be different from what little Alexander can remember, but he is ready to make new memories on his own at The Woods. He says he's always felt a special calling to attend SMWC. He loves the small campus, the camaraderie and everything The Woods stands for.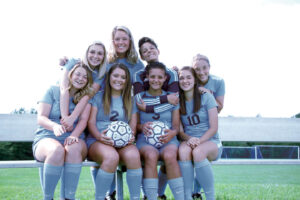 For several new and returning students this fall, attending SMWC is very much a family affair. Approximately 12 percent of current SMWC students in the campus program are considered legacy students. Interestingly, four sets of sisters are on SMWC's soccer team this year: sophomore Corre and freshman transfer Carra Matherly of Clinton, Ind.; senior Haley and freshman Gabrielle Shuler of New Haven, Ind.; sophomore Maddie and freshman Makayla Stuck of Terre Haute; and senior Ashleigh and freshman Alexis Pflum of Indianapolis. It is a unique feature of the young team, with 13 of 19 members as freshmen and sophomores.
Twins Corre and Carra Matherly also join their cousin, music therapy junior Jacob Wilson of Clinton, Ind., at The Woods. Together, they form the beginning of a new tradition for their families.
Corre is a sophomore biology major while Carra is a criminology major who recently transferred from another local university. Corre is now showing Carra the ropes. "Last year was really different. I was by myself, and I had to come up with brand new friends. I had to become myself, finally," Corre said.
"I think the year gap made us closer together. So now, we're not only sisters … we're best friends," Corre said. "I love it. I'm glad she's here."
"I love being here," Carra responded. "I feel like when I'm here, I'm home."
As a demonstration of its commitment to its alumni, SMWC offers legacy scholarships to admitted, full-time students in a degree seeking program whose relatives have previously attended The Woods. To be eligible for up to $5,000 in tuition scholarship, the alum connection must be a grandparent, parent/step-parent, sibling/step-sibling, aunt/uncle or niece/nephew. To be eligible for up to $1,000, the alum connection must be a cousin, an in-law or distant relative.