By Elizabeth (Izzy) Reel, '21
Keeping up with current students and alumni of Saint Mary-of-the-Woods College is part of the institution's ongoing efforts to build engagement and it is just part of being one big family!
Summer is a great time to for experiential learning through participating in internships and trying new things.
Senior Kelsey Young, '21 and alumna Courtney Prather Cook '16 both had eventful summers gaining much through their business development and networking opportunities. SMWC is proud to see students and alumni strive to accomplish their goals throughout their journey.
---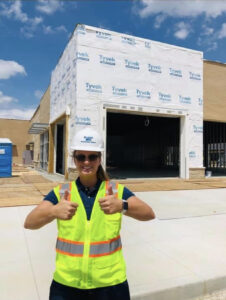 Kelsey Young, '21
Intern at Thompson Thrift
Major: Human Resource Management
Minor: Leadership studies
Campus leadership:
Softball team
Phi Beta Lambda (PBL), President
Student Senate, Vice president
What experience do you value most that you will cherish following graduation next year?
The experience I've had at SMWC has been insanely amazing. I'm very thankful for the opportunities I've had in athletics with showing my leadership, as well as enhancing it in PBL and Student Senate.
This is my second summer at Thompson Thrift. Without this experience, I would have a lot of unanswered questions about my future. This company has confirmed for me that this is the type of work I want to do and the type of team I want to work with. The team skills and environment are something I love because, there, I'm not just an intern, I'm one of the team and treated as an equal part.
What led you to Thompson Thrift?
I'm from Terre Haute and you see their company signs almost everywhere. They're marketed all around the area. I actually had a family connection who recommended Thompson Thrift to me. It started out with a conversation of saying that I wanted to get an internship experience before my junior year at The Woods. Once she recommended them to me, I reached out to their team. It took a couple months to square away the details, but once I got the call, I didn't look back.
Describe your daily routine and what you've learned.
Most people think of Human Resource Management as a desk job, but that's not the case. I actually get a lot of face-to-face interaction. It's not a day-to-day routine where everything is the same. Whether I'm helping one of our new interns with a task or talking to people over the phone, every week it's something different. One positive thing is that I'm one of the few in charge of our LMS (learning management system) training, which is our safety training that interns and new employees have to complete. This shows the foundation of trust from leadership that I've built at the company, and it's great.
How will you take this experience with you once you graduate from SMWC?
To be honest, I hadn't thought about that. What I can say though is that this experience has made me value being a part of a great team. Seeing the skills I've learned has been awesome. This is on my top 10 list of best places to work. Working with this team has helped me set standards for myself and the workplace I want to be a part of.
What advice would you give to other SMWC students about their college journey and internship opportunities?
LinkedIn is such a great tool, and I think every student should create one. It's where you can really market yourself. There are many cases where employers might not look into hiring you if you don't have one.
Looking at other websites like Indeed can also help with finding internships and potential job options. Even just to get an idea of jobs you might like. When you find one that you are interested in, reach out. The worst they can say is no¬ – I've learned to take that risk!
What are your plans once you graduate?
I wish I knew. I'd love to say that my plans are here (Thompson Thrift), but if not, I know I'll be led to employers that will be great. Regardless, I know that I'm valuable in the work I do and have performed, and as a current intern, that's the best thing I can ask for.
---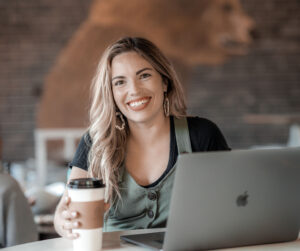 Courtney Prather Cook, '16
Creative Director of BoCo Collective
Major: Marketing and Graphic Design
Tell me about your experience at The Woods?
I'm originally from Colorado. My grandma, who I'm very close to, was an alumna from SMWC and lives in Terre Haute. I grew up visiting the area and my grandparents every summer. I learned a lot about The Woods through her. After applying to The Woods, I was actually awarded the SMTG scholarship, for which I was very thankful. During my time there, I studied marketing and graphic design and fell in love with the field. I interned at a marketing firm in town, MillerWhite Marketing, and on campus in the marketing department. After graduation, I went on to work in the marketing department at Indiana State University.
What drove you to entrepreneurship?
Through the years, I had a freelance design business, and I loved it. I've always enjoyed owning my own business and always have had an entrepreneurial mindset.
In 2017, my husband and I established our pottery business, Clay Plant Road Pottery, in Parke County, Ind. It was kind of one of those things we started as a hobby together and eventually realized it could become a full business.
We built a barn to serve as our studio that includes all of our equipment, wheels, kiln and more. Since then, we've really grown and business has exploded in the last year, which was somewhat unexpected with COVID-19. One of big goals has always been to reach 10,000 followers on Instagram, which we have almost reached!
I'm also the creative director for the agency, BoCo Collective. My colleague, Bo, and I have been friends for years. We met during our time in the marketing office at Indiana State, and we both dreamed of owning a business together. This year, we realized that it was our time. We decided to take the risk and so far, it's been a great success.
I work on the creative side of the business, and Bo manages the marketing strategy side. We primarily serve the Terre Haute and Indianapolis areas right now. Throughout this journey, it's been great to have her by my side and know that we can count on one another. We pride ourselves on being an "intentionally small" agency to be able to offer personable, customized and affordable experiences for our clients.
How has The Woods impacted your journey and where you are today?
The Woods taught me the importance of making connections and friendships. One connection that I've made is my mentor, Santhana Naidu. He really encouraged me and Bo to go "all in" on our marketing agency idea. He was and still is a huge factor in our lives.
You're a very busy woman being married with two successful businesses and having a background in freelancing, how do you balance it all?
That's a great question, and to be honest, a huge part of why I love what I do. My involvement with my businesses, my experience and work I do all mesh well together. They overlap in more ways than one might think, but that's what I enjoy about it… at some point, they all align.
Another factor is organization. I'm very organized and have a routine where I dedicate certain days to specific companies. One day I will do work for BoCo Collective, the next I will focus on Clay Plant Road. I also make time to just relax and walk my dog because that's important too.
I owe a lot of the balance to my husband, Austin. He's helped me grow in so many ways. He has the mindset to learn as much as you can about as many areas as you can. It's really helped me become a more well-rounded individual and business-person. We're a great team; having a business with your spouse takes work, but it's so rewarding at the same time. We get to celebrate our company victories together. I wouldn't trade that for anything.
What advice would you give to SMWC students who are considering creating their own business?
You must get experience in some way. Look for opportunities that might not necessarily be presented to you. Show your skills and what you can do. In my experience, I went out of my way to show my creative side by creating logos for startup businesses. I even designed a campus map for SMWC, which was fun and a great portfolio builder!
I also think as a business owner, the power of connections and friendships is unmatchable. My process is to focus on building friendships and connections, rather than trying to sell something. If a sale comes out of a friendship, that's great, but if not, it's still good to have those relationships and connections.