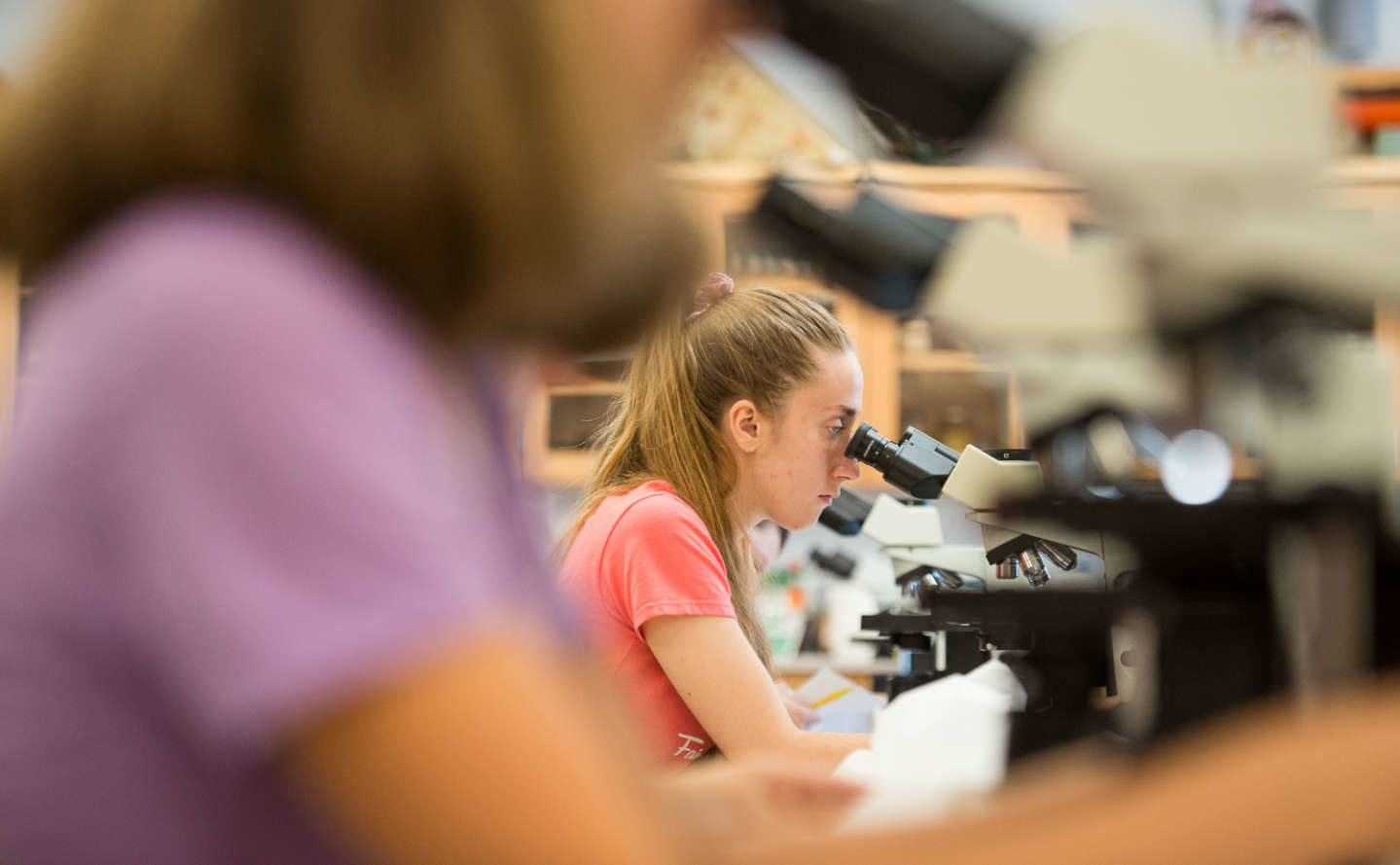 A bachelor's degree in biology from SMWC prepares you to pursue careers in areas such as cell biology, ecology, genetics, immunology, microbiology, physiology and public health, and/or to take your education to the next level by pursuing a medical or graduate degree.
Bachelor of Science (B.S.) in 

Biology Overview
If you enjoy learning about life processes, living organisms and the natural environment, the biology major is for you. As a biology degree program, you can study biology at the molecular, cellular, organismal and ecosystem levels, all the while developing your abilities as a technical problem-solver.
In our small, open classrooms, you'll receive personalized interaction with your professors, have many opportunities to work collaboratively with classmates and gain hands-on experience. You'll also conduct professional-level research that will prepare you to be a creative problem-solver for the scientific age. Our faculty members hold terminal degrees and have diverse experience in education, research and industry fields.
Not only will your coursework explore the specifics of the biology major, it will include a strong foundation in the liberal arts, providing you with a well-rounded education.
Biology Career Paths
With a biology major from The Woods, you are prepared to pursue careers in areas such as microbiology, public health, genetics, physiology, immunology, ecology, and cell biology, or to take your education to the next level by pursuing a medical or graduate degree. Students can also choose to pursue a teaching license for grades 7 through 12 in middle/high school life sciences education. Below is a list of a few of the companies graduates have gone on to work or continue their education after receiving their biology degree from SMWC:
Federal Aviation Administration
Eli Lilly and Company
Rush Medical Center
Dow Chemical Company
Mayo Clinic Hospital
Georgetown University
Career Opportunities
Biology jobs include laboratory work in a number of industries including pharmaceutical, as well as food and agriculture. Some other career opportunities include the following:
Medicine
Dentistry
Pharmacy
Optometry
Physical therapy
Environmental science
Other scientific areas
Combining Programs
This sequence of course work may be combined with secondary education courses for certification to teach biology, or you may combine the major with other majors or minors, such as equine studies, information technology or psychology. Combining majors or minors can prepare students for a variety of jobs including:
Biology teacher
Biotechnologist
Botanist
College biology professor
Ecologist
Environmental protection officer
Forest geneticist
Freshwater biologist
Microbiologist
Mine reclamation scientist
Natural resources manager
Pharmaceutical sales
Physiologist
Research technician
Scientific photographer
Zoologist
Graduates are working in such careers as:
Physician
Veterinarian
Zoo worker
Clinical science research assistant
Ophthalmologists research assistant
Chiropractor
Optometrist
Biology secondary education teacher
Principal of high school
Medical technologist in hospital setting
Check out our blog 5 careers you can have with a biology degree