By alumna Karina Wallace '16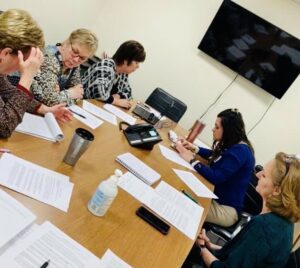 I am the Clinical Director for VNA and Hospice of the Wabash Valley, and this time during COVID-19 has been surreal. There is not a normal day anymore!
It is so important right now to reach out to other health care providers to inquire how they are handling this – what is working and what is not working. This is a time that collaborating with others is essential to get through this. This is all new for everyone. Everyday there is new information and new ways to do something, and we have to be willing to change.
As a director, I feel it is my obligation to ensure our agency has the most up-to-date knowledge from the CDC and Indiana State Dept of Health. Our agency wants to make sure we have the correct information to share with our staff, patients and families. Every morning our management team meets to discuss staff call ins, staff exposure and child-care issues. We discuss new patients and caregivers who are symptomatic, supply shortages and restrictions at facilities for our staff who are caring for patients.
As a nurse, director, wife and mother this has been and continues to be overwhelming. At first, I was trying to listen and watch anything I could to get information on COVID-19. I would scroll through social media posts and news sites so I would not miss out on anything. A few weeks ago, I could not sleep and even when I did sleep, I dreamt about it! I was letting this consume me! I decided then that I was not going to look at social media or news sites, but rather focus only on CDC, ISDH and our homecare and hospice sources. I am trying to read a Biblical devotion every day to clear my mind.
This is a time I have to rely on God and not myself for the answers.
Even with this pandemic I am still so happy that I am a nurse. In fact, I wish I was on the front lines caring for patients right now instead of worrying how to care for them! Being a nurse is ministry, and my heart is fulfilled by this path I have chosen as a career!
---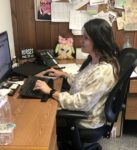 Karina Wallace '16 RN BSN
Karina is the Clinical Director for Visiting Nurse Association and Hospice of the Wabash Valley in Terre Haute, Indiana.