By Catherine Saunders '98, associate vice president for advancement
Catholic education has deep roots in Terre Haute, Indiana, with two schools built on the foundation of providence in the 1800s – serving our community for more than a century through today.
Saint Patrick School of the Terre Haute Deanery, the only Catholic K-8 school in the Archdiocese of Indianapolis west of the greater Indianapolis area, like Saint Mary-of-the-Woods College, was founded by the Sisters of Providence four decades later in 1882.
And, a shared history is not the only commonality between Saint Patrick School and SMWC.
Both SMWC and Saint Patrick School strive to grow tomorrow's leaders in environments with strong Catholic identities. With SMWC's commitment to Catholic values, this community of faith and scholarship provides a rich environment empowering all students to effect positive change in the world.
Likewise, Principal Patty Mauer tells everyone, "First and foremost, Saint Patrick is a Catholic school." Mauer continues, "We provide a Catholic, Christian atmosphere where education and faith blend to build saints and scholars."
When the COVID-19 pandemic reached Indiana and the community in March 2020, swift action was necessary. The local Catholic educators responded to the crisis, caring for the well-being of students and employees, while continuing to educate without interruption.
"SMWC is proud to have a partner in Catholic education in our community. Their response to such unprecedented circumstances in modern times is a testament to the school's leadership and its community," said Janet Clark, Ph.D. vice president for academic affairs and student life.
Saint Patrick School was able to successfully transition 324 students to distance learning with only one day to prepare faculty, students and families for what became their new normal which would last the remainder of the academic year.
Mauer says she is proud that Saint Patrick School continues with its mission through the trials of COVID-19.
"Through providence and planning, the staff had received Google Suite training. We were fortunate to have funds from our annual Race for Education to purchase devices for use in several of our classrooms," said Mauer. "Through these opportunities and the steadfast, diligent work of our educators, we were able to transition into distance learning. Armed with these strategies and a skeletal plan to continue our strong instructional practices intertwined with our faith, we are blessed to have persevered."
Three SMWC alumni are members of the Saint Patrick School faculty: Lisa Lewis Eilbracht '87, Marissa Smith Northam '02 and Susan Eller McDowell '87 are delivering education to their "saints and scholars" ensuring they continue connecting with their students, shaping their futures and living the mission of SMWC by effecting positive change in the world.
"It is The Woods Way to care," explained Clark. "Now more than ever, our alumni go the extra mile for others. These women are a small, but mighty sample of the hundreds of thousands of educators on the frontline of today's distance learning classroom."
With the end of this challenging academic year approaching, these Woods alumnae share highlights and reflections of their unexpected year-end: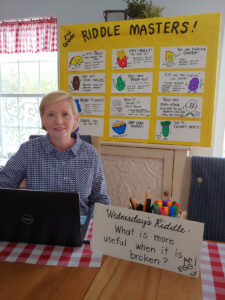 Lisa Lewis Eilbracht '87, Second Grade
"I sent my students home on Friday, March 13, prepared for the possibility of two weeks of e-learning and have not been with them since. These children become part of my family, so there was period of grieving when I learned we would not return to St. Pat's.
"I love them dearly. It was my goal to stay connected with my 38 students in every possible way. Thanks to Google Meet, we come together as a class in the mornings, pray together, discuss assignments, then I read them a story. Each morning, I start with a Riddle of the Day. I want the kids to look forward to distance learning and the riddles have become a contest and a family affair! Thanks to Google Classroom, we are connected and still know what is going on in each other's lives.
"Sadly, their First Holy Communion was postponed. A video message was shared with everyone thanks to Animoto (a free video maker app) that included all of their photos and a message of hope and love, telling the students we are thinking of them, praying for them and looking forward to celebrating the sacrament with them in the future."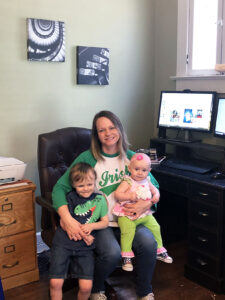 Marissa Smith Northam '02, Middle School Literature
"I have an awesome group of students and parents that have taken on this distance learning challenge with gusto, trying their best to stay on top of assignments even in the midst of everything else they have going on.
"Fortunately, because we were already using some great online sites like Seesaw and Google Classroom, the students acclimated very well to whatever I asked of them. Other platforms have been amazing at opening up free licenses to help me continue teaching as authentically as possible.
"I plan to take all of this in stride and start next year in the spirit of Saint Mother Theodore Guerin's wise words, "Profit by the experience of the past for the future."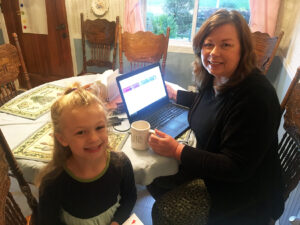 Susan Eller McDowell '87, Middle School Science
"Saint Patrick Middle School students have done a great job adjusting to e-learning. The key, I think, is communication. If there is something they don't understand, or if I'm not sure about something they submitted, we just have to let one another know. We have class meetings at least every other week in order to catch up.
"In addition to teaching middle school, I have been busy helping my granddaughter, Sophia McDowell-Genito, with her kindergarten work. My attention is also drawn to the recognition and celebration of our eighth graders and their upcoming graduation from St. Pat's. Our team is working hard to recognize their achievement.
"I can say that I'm pretty certain that human interaction will never be replaced with technology. I think students and teachers have come to a new appreciation of the time we spend together in the classroom."
---
#WoodsWay, #TeacherAppreciationDay, #GivingTuesdayNow, #INThisTogether