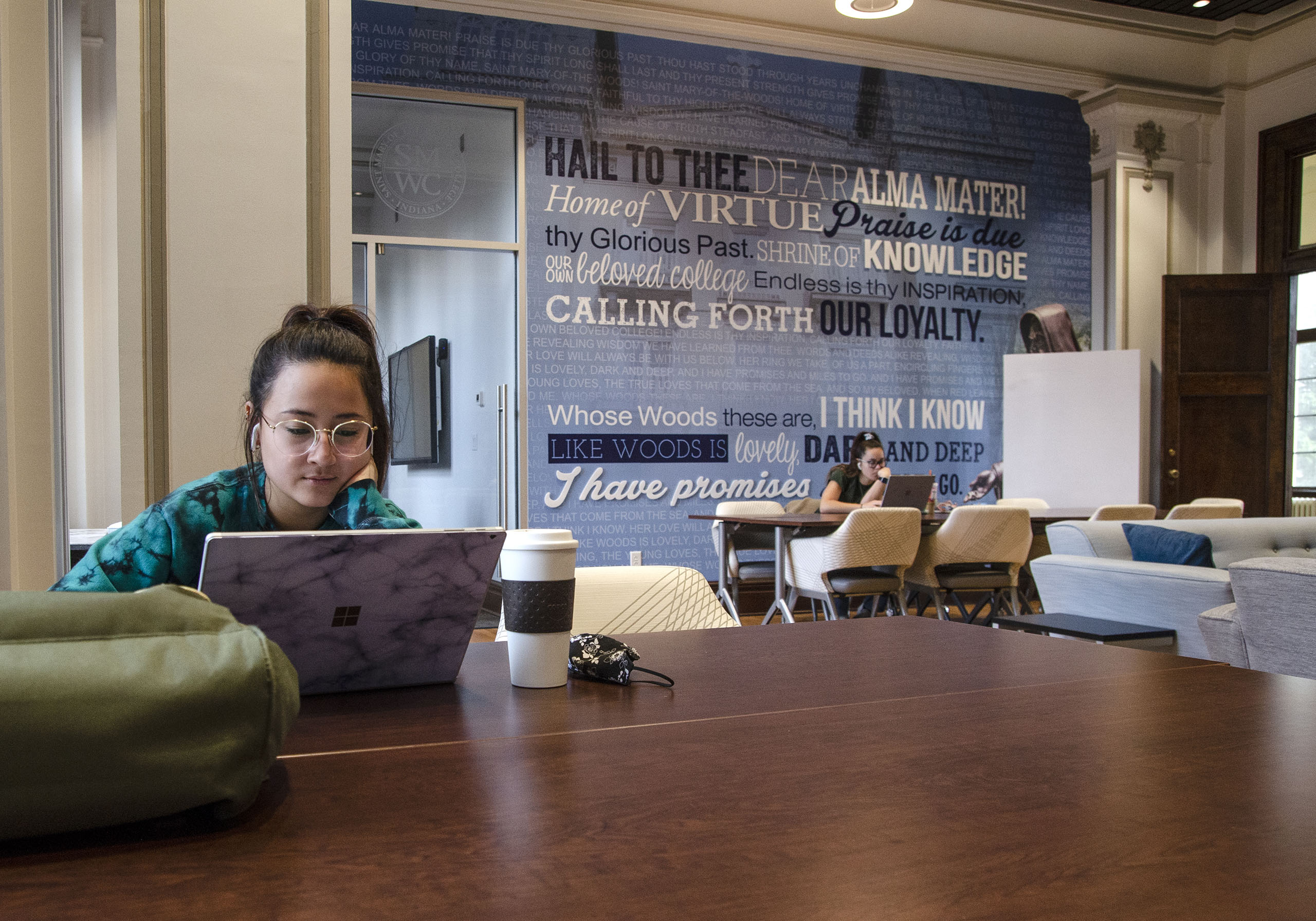 We are proud to recognize our students' academic excellence.
All undergraduate students who achieve a minimum 3.50 grade point average and higher while earning 6 or more Saint Mary-of-the-Woods College semester credit hours with no grade of F, W, or I, will be recognized as having earned Dean's List honors.
Honors are recognized by the following increments upon completion of the fall, spring, and summer terms:
Dean's List Honors: GPA 3.5-3.749
Dean's List High Honors: GPA 3.75-3.899
Dean's List Highest Honors: GPA 3.90-4.00
Due to the COVID-19 pandemic, the Dean's List criteria for the Fall 2020 semester was altered to allow for students with grades of W or I to be included.
Highest Honors
Fall 2020
Jessica Acevedo-Ortiz
Sara Allard
Mary Allen
Mandi Alspach
Lanee Andrew
Mary Anna Anslinger
Evelyn Arreola
Gina Aten
Makinna Bacon
Justice Bailey
Krislynn Bailey
Brianna Bassett
Alexandra Baver
Alexandria Bazzani
Alyssa Berriman
Morgan Boehler
Amanda Borsch
Kieryn Bowman
Bobbi Boyll
Terri Britton
Kissiey Brown
Kortney Buckley
Otis Cantrell
Tyson Cargal
Judith Castro
Brooke Coffing
James Cole
Summer Coleman
Jaselyn Conn
Isabell Coryea
Christina Cotsalas
Katherine Cowan
Linda Coy
Marianna D'Andrea
Victoria Davlantes
Kathryn Deitsch
Samantha DeLattre
Jessica Dickerson
Sarah Donnelly
Morgan Dugger
Shaylyn Ehrlich
Cammy Elledge
Hannah Ellis
Hannah Elmore
Isabelle Engler
Matthew Erion
Kaylei Eubank
Robert Euhl
Jaelyn Fennell
Faith Ferguson
Katherine Findlay
Gale Fink
Kyndall Foli
Lacey Ford
Luke Frey
Alden Fuller
Michele Funkhouser
Isabelle Garcia
Taylor Gardner
Kimberly Garza
Christine Gauer
Katherine Ginder
Drucilla Gray
Catherine Guerin
Aaron Gunn
Bridget Gutish
Paige Harris
Patricia Henney
Molly Hicks
Lindsey Hill
Samantha Hinman
Peggy Houng
Carmen Ingram
Lydia Ingram
Heather Jaasko
Catina Jarvis
Brittney Jaynes
Ashley Jinivon
Amanda Johnson
Katelyn Johnson
Kayla Kelley
Kylie Kelsheimer
Tyler Kernstein
Karin Kilper
Audrey Kinne
Pamela Kirby
Jessica Kligman
Jessica Knowles
Kathryn Kraft
Faith Lancaster
Luonna Lancaster
Sarah Lauck
Ellery Leary
Megan Lenehan
Jason Leturgez
Makala Loyd
Lan Luu
Kaylee Mace
Claudia Maeck
Carra Matherly
Sydney McCammon
Molly McClain
Jean McConkey
Briana McCullough
Meghan McKay
Preston Mitchell
Andrea Modesitt
Jessica Moore
Angela Morales
Gloria Morris
Marcy Nave
Roxanne Nelson
Kimberly Norris
Ivy Oberkrom
Kelsie O'Rourke
Ashley Otte
Jeannie Owsley
Leah Pache
Brady Page
Julia Pastore
Beth Paul
Anwyn Payonk
Arianna Pershing
Mykaela Peterson
Faith Pokryfke
Abigail Rascoe
Autumn Raubuck
Kylie Reed
Dara Ribis
Alexis Richardson
Abbigail Roberts
Dunia Rojas Vega
Ryan Rothstein
Melissa Rowe
Patty Sanders
Alexandra Sarell
Austin Schmidt
Andee Schueler Sherman
Kendyll Schulz
Erika Schweppe
Rachel Scott
Sarah Seay
Maura Secrest
Sarah Selby
Megan Senseman
Krista Shick
John Simon
Lindsey Skelton
Alyssa Snively
Megan Snyder
EmiLeigh Sofronko
Logan Soliz
Anna Spillman
Alessandro Spinelli
Serena Stiehl
Maggie Stites
Stephanie Targonski
Emma Taylor
Melissa Taylor
Kimberly Theriac
Bailey Thompson
Victor Torres
Jessica Tracy
Hang Tran
Emma Traubert
Elizabeth Trejo
Emily Truax
Catherine Tudisco
Annette Turner
Katie VanderKooi
Logan Vernon
Angelia Walters
Rachel Wasmer
Chelsea Wellmann
Erin Williams
Kelsey Williams
Vanessa Willis
Autumn Wilson
Alyssa Winterstein
Terran Wittig
Hannah Wonders
Jennifer Wright
Caitlyn Wyrick
Ashley Zembrycki
High Honors
Fall 2020
Carlos Barata
Hannah Barrow
Sarah Belfi
Machelle Blair
Gabriela Bonilla
Raven Bransom
Ronald Brewer
Katelyn Bucy
Brittany Carter
Kristi Carter
Shelby Carter
Theresa Carter
Jessica Claypool
Kayla Coryea
Jennifer Cox
Madeline DeBaun
Sara DeBoer
Juan Delgado-Vasquez
Ashley Downs
Monica Dreher
Emily Driscoll
Emma Dyer
Michayla Edington
Christina Elkins
Kirstin Ellis
Elizabeth Farley
Chad Ford
Alexis Fox
Samantha Fox
Rylee Fritsch
Samantha Gambrel
Kristy Gilliam
Diana Guzman
Allyson Hardiek
Tavia Hedrick
Jordan Helms
Levi Herb
Ashton Hill
Chloee Hughes
Cassidy Hunt
Sydney Ingram
Delilah Johnson
Kaci Jones
Shelby Joy
Shara Keen
Braden Kelsey
Deonte King
Elizabeth Kleptz
Alexis Klug
Jessica Knowles
Jesylan Lambermont
Kara Leturgez
Hannah Lewis
Josephine Lord
Abbey Mattingly
Roxanne Meadows
Mariah Monnett
Robin Moore
Jerrica Nicklies
Nicole Norton
Kiran Nyx
Emily Padilla
Katelyn Pell
Kayla Pennell
Amelia Pierce
Elizabeth Reel
Jacob Rivers
Paola Rodriguez
Ashley Rogers
Cheryl Sanders
Camryn Scott
Sarah Seaton
Hunner Shirley
Gabrielle Shuler
Kynedy Sladek
Brenee' Smith
Addison Sowers
Melisa Spognardi
Adam Stattner
Eric Stattner
Ethan Stattner
Katrina Strow
Coralena Taylor
Mariah Thompson
Kaylin Turner
Drake Varns
Victor Villagomez
Cameron Walters
Olivia Welch
Kathryn Wendorf
Kathryn White
Olivia Willis
Holly Winkler
Cheyenne Wolford
Cameron Wood
Honors
Fall 2020
Jenna Albertson
Kirsten Anatone
Brooke Andrus
MaKayla Arney
Kaylynn Barton
Kristen Beasley
Tamarah Belton
Daniel Bohan
Kaitlyn Bone
Melody Bone
Caitlin Bowersock
Constance Brady
Caroline Bransby
Kirsten Branson
Ayinde Brewster
Alexis Brinkley
Michael Broome
Kelsie Clark
Alexis Cobb
Kaylee Cooper
Jeremy Corbin
Alaura Coryea
Alexandra Crabb
Jessica Crafton
Dallis Davis
Cheany Deckard
Holly Dumas
Abigail Drake
Chelsie Edwards
Katelyn Elkins
Hannah Everage
Anjolaoluwa Fatoke
Jessica Ferran
Teryn Garzolini
Arielle Green
Elaine Guinn
Sydney Hankins
Laura Hawbaker
Brittany Hill
Samantha Hotzler
Kelsey Hunt
Lydia Huston
Lyndsey Hutchison
Molly Isles
Claire Jackson
Cliff Jackson
Macy Jackson
Avalee Jeffers
Zachary Keenum
Kailee Kefer
Madalynn Kerr
Matthew Lamb
Lacey Lane
Emma Leturgez
Aerial Lewis
Lorena LiMato
Dominique Linder
Emily Little
Claire Loebker
Alicia Lombardo
Heidi Lovett
Sarah Mann
Jasie Marshall
Taylor Mason
Corre Matherly
Tessa McAfee
Nathan McIntyre
Kaylie Meehan
Stacey Mendenhall
Thomas Miller
Kaelee Moody
Amanda Nelson
Clayton Noblitt
Emily Noe
Michele Parker
Juan Parra
Autumn Patton
Jaylin Paullus
Brittany Peacock
Kelli Phelps
Tarah Pine
Hannah Ponto
Dennis Pratt
Ana Maria Ramos
Hunter Reed
Stacy Reed
Jilliann Reese
Kriss Reid
Jayla Rheams
Elizabeth Riddle
Erin Robertson
Julia Robertson
Theresa Robertson
Summer Rocha
Emilee Roush
Lillian Sanders
Kara Schafer
Natalie Schafer
Taryn Scheub
Courtney Schmid
Alexis Sexton
Kristina Shaffer
Ashley Simmons
Jennifer Stewart
Makala Stockberger
Thomas Swanson
Allee Taylor
Kaylee Thompson
Mackenzie Truong
Sarah Tussey
Taylor Valencia
Rachel Vicars
Hannah Village
Jaime Walters
Alisha Wells
Seth Whittle
Joshua Wood
Alexis Woodburn
Erin Young
EbonyRae Zembrycki
The honors will be listed by term on the student's academic transcript as well as published by the College upon completion of grade processing at the end of the semester.