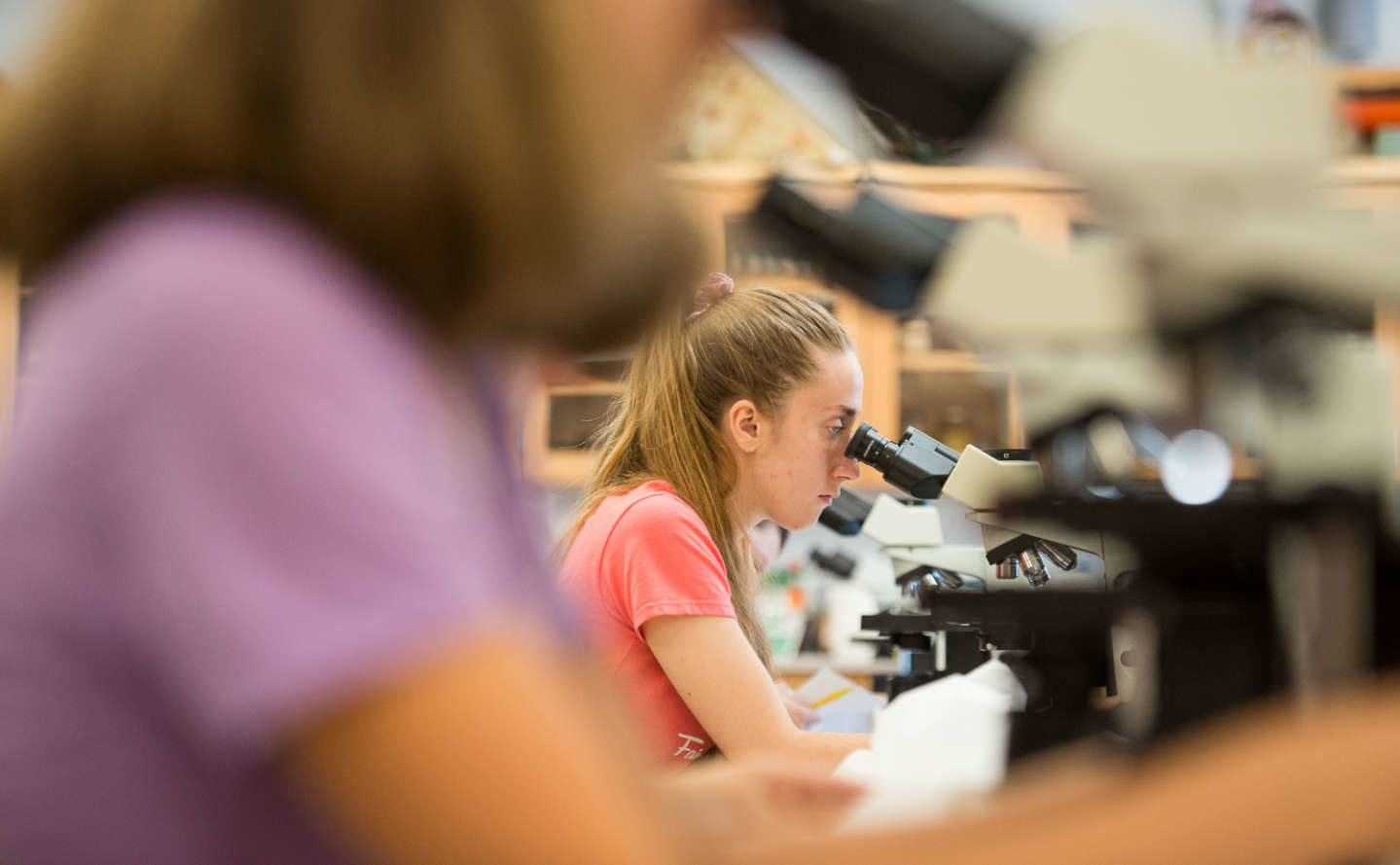 We are proud to recognize our students' academic excellence.
All undergraduate students who achieve a minimum 3.50 grade point average and higher while earning 6 or more Saint Mary-of-the-Woods College semester credit hours with no grade of F, W, or I, will be recognized as having earned Dean's List honors.
Honors are recognized by the following increments upon completion of the fall, spring, and summer terms:
Dean's List Honors: GPA 3.5-3.749
Dean's List High Honors: GPA 3.75-3.899
Dean's List Highest Honors: GPA 3.90-4.00
Due to the COVID-19 pandemic, the Dean's List criteria for the Spring 2020 semester was altered to allow for students with grades of W or I to be included.
Highest Honors
Spring 2020
Ellen Abood
Mandi Alspach
Lanee Andrew
Isil Askin
Aubrey Aubrey
Carlos Barata
Breanna Barger
Hannah Barrow
Brienna Baudoin
Kimberly Baugh
Sarah Baumgartner
Alexandra Baver
Alexandria Bazzani
Sarah Belfi
Jessica Betzler
Colton Booher
Amanda Borsch
Bobbi Boyll
Chelsey Braaksma
Alexis Brinkley
Hannah Brock
Paige Buckallew
Kortney Buckley
Sarah Burcham
Mara Canada
Brittany Carter
Shelby Carter
Megan Chitwood
Natalie Coffin
Brooke Coffing
Summer Coleman
Kaylee Cooper
Jeremy Corbin
Stevi Cornelius
Kayla Coryea
Jessica Crafton
Madeline DeBaun
Ashley Downs
Heather Eckert
Shaylyn Ehrlich
Robert Euhl
Susan Fanizani
Jaelyn Fennell
Sara Fields
Lacey Ford
Sheri Fortune
Laura Fraley
Breah Franko
Rylee Fritsch
Alden Fuller
Michele Funkhouser
Taylor Gardner
Krystan Gilmore
Katherine Ginder
Julie Goffinet
Ashley Griggs
Frances Grover
Gokdeniz Gumus
Bridget Gutish
Diana Guzman
Sydney Hankins
Arabella Harrison
Jamie Hendrickson
Patricia Henney
Kristiana Hickenbotham
Megan High
Leigh Hinkle
Samantha Hinman
Rachel Hochstetler
Jacob Holbert
Amy Honeycutt
Katherine Hughes
Connie Ignatiou
Lydia Ingram
Heather Jaasko
Meleah Jordan
Tyla Keebler-Thomas
Shara Keen
Kylie Kelsheimer
Katelynn Kennedy
Tyler Kernstein
Audrey Kinne
Kathryn Kraft
Whitney Ksenak
Colton Kuppler
Jesylan Lambermont
Luonna Lancaster
Hannah Lewis
Kahla Long
Kaylee Mace
Claudia Maeck
Taylor Mason
Anna Matteson
Lea Matthys
Hailey McCulloch
Thomas Miller
Caroline Mohler
Jessica Moore
Jaret Morlan
Marcy Nave
Amanda Nelson
Emma Newton
Kristina Nichols
Morgan Nobbe
Clayton Noblitt
Kimberly Norris
Ivy Oberkrom
Breanna Olinger
Kelly O'Shea
Ashley Otte
Anwyn Payonk
Arianna Plett
Elizabeth Randolph
Abigail Rascoe
Stacy Reed
Lisa Reppert
Dara Ribis
Jacob Rivers
Abbigail Roberts
Whitley Roessler
Ashley Rogers
Ryan Rothstein
Emilee Roush
Melissa Rowe
Patty Sanders
Natalie Schafer
Andee Schueler Sherman
Kendyll Schulz
Erika Schweppe
Rachel Scott
Sarah Seay
Sarah Selby
Megan Senseman
Brandi Sharp
Krista Shick
John Simon
Miranda Smothers
Alyssa Snively
Jozee Spatta
Meagan Spencer
Melisa Spognardi
Emily Stattner
Ethan Stattner
Savannah Steedman
Makala Stockberger
Madison Stuck
Emma Taylor
Melissa Taylor
Kimberly Theriac
Cassidy Thompson
Victor Torres
Kelly Townsend
Hang Tran
Emma Traubert
Elizabeth Trejo
Emily Truax
Annette Turner
Sarah Tussey
Shelbie Underwood
Jonathan Utz
Dunia Rojas Vega
Rachel Vicars
Hannah Village
Angelia Walters
Rachel Ward
Olivia Wells
Brandon West
Shailee Wetter
Mary Wheeler
Hilary Williams
Vanessa Willis
Amanda Wills
Autumn Wilson
Terran Wittig
Alexis Woodburn
Ashley Zembrycki
Ashley Zuo
High Honors
Spring 2020
Tamarah Belton
Renee Bower
Constance Brady
Ronald Brewer
Irisa Brown
Katelyn Bucy
Melanie Castro-Pacheco
Hayley Cooper
Sara Cornwell
Aundreya Corwin
Cassandra Decker
Kathryn Deitsch
Pamela Dorman
Cammy Elledge
McKayla Ellis
Hannah Elmore
Erica Everett
Emma Fey
Kyndall Foli
Kimberly Garza
Kara Gilbert
Janelle Givans
Drucilla Gray
Brennan Guido
Elaine Guinn
Daniel Harm
Janeen Hatt
Laura Hawbaker
Tavia Hedrick
Thomas Henderson
Bethany Hobson
Suzanne Huey
Lydia Huston
Sydney Ingram
Catina Jarvis
Katelyn Johnson
Shelby Joy
Kayla Kelley
Riley Kinney
Kara Leturgez
Regina Levi
Victoria Lindsay
Claire Loebker
Alicia Lombardo
Mannah Mace
Aaron Majiros
Jourdan May
Tessa McAfee
Molly McClain
Braxton McIntyre
Keirsten Mikesell
Gloria Morris
Dominique Owens
Leah Pache
Katelyn Pell
Arianna Pershing
Steven Pierce
Tarah Pine
Tiffany Prince
Erin Rankin
Jilliann Reese
Kiran Richardson
Theresa Robertson
Samantha Sagarsee
Brooke Sandy
Miya Shepard
Ashley Simmons
Brenee' Smith
Julia Smith
Annette Snyder
Christina Stivers
Allee Taylor
Coralena Taylor
Kasey Thiel
Gretchen Tucker
Logan Vernon
Victor Villagomez
Olivia Wendel
Kathryn White
Cheyenne Wolford
Hannah Wonders
Caitlyn Wyrick
EbonyRae Zembrycki
Whitney Zepeda
Whitney Zepeda
Honors
Spring 2020
Lydia Alumbaugh
Morgan Anderson
Tina Anderson
Brooke Andrus
Sonia Arbouche
MaKayla Arney
Libby Asher
Allison Bailey
Chloey Barnett
Daniel Bohan
Anna Bunch
Megan Campbell
Chelsea Carter
Hannah Childress
Mallory Clarkson
Alexis Cobb
Jessica Cofield
Alaura Coryea
Linda Coy
Catherine Cramer
Sara DeBoer
Juan Delgado-Vasquez
Jessica Dickerson
Monica Dreher
Emily Driscoll
Morgan Dugger
Michayla Edington
Christina Elkins
Kirstin Ellis
Beatrice Evans
Shelby Feuquay
Gale Fink
Hali Furr
Ainslee Gard
Amanda Gardner
Christine Gauer
Justine Gibson
Jasminder Gill
Kristy Gilliam
Jessena Goddard
Levi Herb
Brittany Hill
Brittany Huddleston
Mikayla Hudgens
Lyndsey Hutchison
Molly Isles
Claire Jackson
Avalee Jeffers
Heather Jones
Kaci Jones
Cheryl Kaperak
Delaney Kendall
Jaynard Keys
Elizabeth Kleptz
Lyric Krause
Abigail Laker
Sydney Landes
Catherine Larson
Sarah Lauck
Alexa Lloyd
Sean Lowe
Lan Luu
Brody Magee
Sarah Mann
Carra Matherly
Briana McCullough
Whitney McCullough
Kaylie Meehan
Stacey Mendenhall
Jordan Meng
Hailey Miller
Hailie Miller
Benjamin Myers
Jamie Neidlinger
Madison Newburn
Kelsie O'Rourke
Amelia Pierce
Brittany Pine
Damien Pittman
Montgomeree Porter
Mattia Potter
Keegan Prescott
Amber Price
Corrissa Proctor
Hannah Pruitt
Kaileigh Pruitt
Jamie Ralston
Whitney Ramsey
Maricarmen Rangel
Hunter Reed
Elizabeth Reel
Amanda Reynolds
Gwendylan Reynolds
Jovon Richardson
Nicholas Roby
Paola Rodriguez
Olivia Russell
Cheryl Sanders
Katlin Schmittler
Gabrielle Shuler
Rachel Sivertson
Jessica Stacy
Brooke Stateler
Caroline Steinrock
Maggie Stites
Alexandra Swaim
Logan Thralls
Zoe Trausch
Emily Turner
Lillian VanderMel
Jaime Walters
Taylor Weber
Ashley Weil
Olivia Welch
Seth Whittle
Holly Winkler
The honors will be listed by term on the student's academic transcript as well as published by the College upon completion of grade processing at the end of the semester.