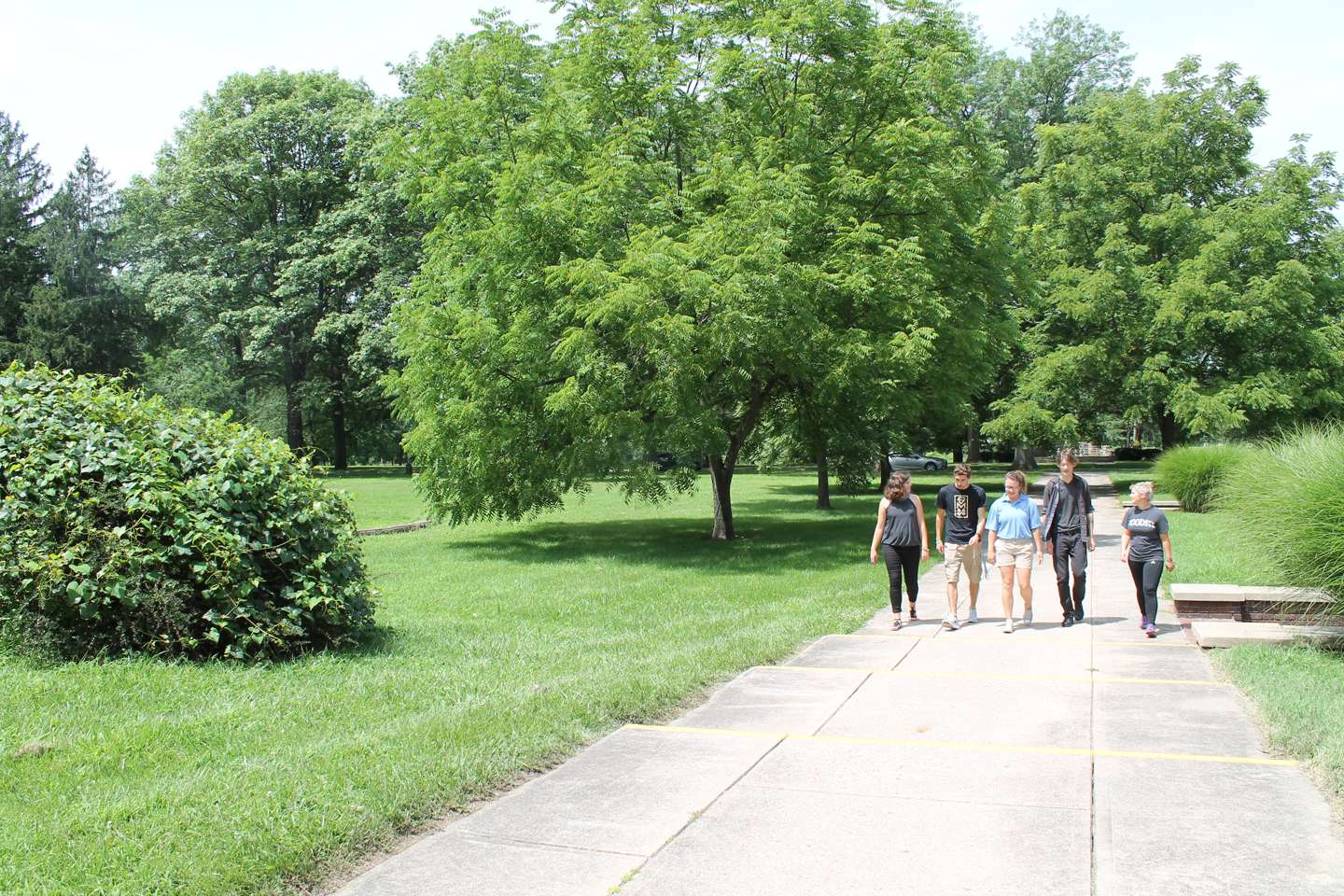 Aspire Even Higher Strategic Plan
The Aspire Even Higher Strategic Plan is a vibrant and exciting pathway that promises to build momentum and usher Saint Mary-of-the-Woods College forward as the institution enters its 180th year. The Aspire Even Higher Strategic Plan has three distinctive and interconnected priorities focusing on advancing SMWC in the areas of academics, campus environment and the college's outreach locally, regionally and nationally. The concepts of spirituality, enrollment and innovation are woven across the three priorities.
Priorities and Objectives
With input from students, faculty, staff, administrators, trustees and alumni through a series of dream and focus sessions, the 40-member strategic plan steering committee developed this plan to strengthen the institution across all areas and build a foundation for future growth. The steering committee will be responsible for the plan's implementation over the next five years beginning with its launch in the 2019-2020 fiscal year.
Strategic Priority 1
Innovate and elevate the distinctive, high-quality education of SMWC, laying a foundation for visionary growth and expansion
Objective 1 – Sustain and grow a culture of innovation and accountability that elevates and enhances the SMWC mission

Grow new program offerings to enhance recruitment opportunities and choices for students in an ever-changing workforce
Develop partnerships that create experiential and educational opportunities for students, raise awareness of SMWC and build enrollment pipelines
Move to university status and offer doctoral programs by Fall 2022
Evolve Woods Online in a way that disrupts the market and provides a competitive and flexible experience for students

Objective 2 – Amplify student success through innovative academic support systems and co-curricular development

Embed innovative professional development and career readiness into curriculum
Increase on-time undergraduate graduation rates of all students to 7% by 2025
Embed leadership and service experiences into all areas of learning

Objective 3 – Create a culture of inclusion and diversity at SMWC

Develop international internships and study abroad opportunities that will elevate student networking and global awareness and experience
Increase diversity of the student population by 10% through international partnerships and regional minority mentoring programs by the year 2025
Increase the adult learning population by 20% by 2025
Expand student services that meet the needs of a diversified student population

Objective 4 – Sustain and grow the faculty

Develop a Center for Teaching and Learning to promote teaching strategies and methods that are student-centered, culturally responsive and engaging to diverse viewpoints and perspectives
Support the faculty through compensation initiatives and intentional professional development
Encourage collaboration and professional growth leading to integrative academic programming
Model a mission of inclusion, diversity and global awareness affecting positive change
Strategic Priority 2
Create an environment in which students enjoy exceptional academic and co-curricular experiences on their path to achieving excellence
Objective 1 – Capitalize on 2019 expansion of the campus footprint to 311 acres, maximize existing space in historic buildings and address future needs of a growing student population

Develop 5, 10 and 20-year master plans for campus grounds and facilities
Explore opportunities for collaboration of shared grounds with the Sisters of Providence
Explore future growth opportunities with the USDA

Objective 2 – Enhance the student experience by improving physical and virtual environments

Ensure all students have ease of access to through modern, efficient and inclusive technologies
Update campus buildings and grounds with special emphasis on improving academic and residential facilities to enhance enrollment growth

Objective 3 – Ensure support for the transition to full membership in the National Association of Intercollegiate Athletics (NAIA)

Plan for NAIA transition
Expand athletic teams as part of the plan for facilities growth with a focus on the development of an athletics fields complex

Objective 4 – Provide an extensive, relevant, evolving and secure IT infrastructure focused on providing a stellar student-centered education

Invest capital spending on IT infrastructure projects to improve existing configurations, enhancements and implementations of new technology solutions to support future growth
Evaluate and improve support services technology assuring inclusive support for all student-based populations and drive efficiencies
Invest in integrated enterprise academic, business, social and recreational solutions
Deliver an Information Security program founded on best practices that is ethically responsible and governmentally compliant
Strategic Priority 3
Grow the College through strategic partnerships, raising awareness of the institution and its regional location
Objective 1 – Position the College to become a leader regionally by enhancing the reputation and visibility of the institution

Develop a plan to integrate SMWC into core college-town initiatives
Develop a plan to connect SMWC to the county trail system
Collaborate with Launch Terre Haute to increase student and College connections with small businesses and other educational institutions
Promote SMWC values and educational offerings through a speaker series
Elevate the visibility and influence of distinguished alumni

Objective 2 – Strengthen the brand to best communicate the value of a private, liberal arts education

Launch a refreshed and expanded brand strategy
Implement a robust communication strategy for internal and external stakeholders based on the refreshed brand
Explore opportunities to host national and regional conferences on campus and throughout the Wabash Valley

Objective 3 – Build a community that exemplifies and lifts up our vision, values and brand

Embrace our commitment to diversity and inclusion
Develop a statement to best articulate and strategies to strengthen SMWC's Catholic identity and values
Explore and communicate how the College lives out our mission and values of social justice, spirituality, sustainability and gender equality
Establish communication strategies that leverage the value of the SMWC education and experience

Objective 4 – Increase Community Engagement

Identify regional initiatives that align with the College's mission, core values and programs of study
Develop a private and public collaborations portfolio with local, state and regional partners
Create and expand a framework for formalized student volunteer opportunities