By Brennan Randolph, MBA, Vice President for Enrollment Management and Institutional Technology
It is my pleasure to welcome our newest class of Pomeroys to The Woods and to hand over this class to President Dottie King. Students, you are here for a reason. You were accepted to join this class because you demonstrated to our admissions staff an ability and desire to work hard and grow in preparation for your future. Over the last several months each of you have worked through the many steps to become a student sitting here today. Along this journey you were guided by many exceptional staff members in admissions and financial aid and I'd like to take a minute to recognize the team.
Chris Lozier, Executive Director of Admissions and his team.
Darla Hopper, AVP for Financial Aid and Admissions and her team.
Over the last 18 months, this team has recruited 420 new undergraduate students (Class of '24 and '25).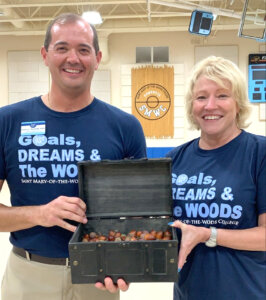 Parents, friends and loved ones, I can imagine today is a day full of emotion and excitement as you watch your student take the next step in their lives. Some of you may be holding back tears right now and others may be thinking about the new office or craft room you plan to convert the now extra bedroom into. Either way, please know we are committed to the responsibility of guiding your student through this life changing journey and we appreciate the confidence you have in our community to deliver on our promises.
Facts about this class:
211 new students, 15% increase over last year
13 states, two U.S. territories and two foreign countries, including students from Hawaii and around Disney World
One of the most geographically diverse classes in history
Students, please stand.
Students, as you entered the gates of campus and proceeded down The Avenue on your first visit, you were likely in awe of the wooded grounds, the peacefulness of the campus and seeing for yourself an inspiring example of God's creation. We call The Woods, The Woods for obvious reasons, but hidden in this place, in areas some may look past or never notice, are examples of opportunity. We are blessed with an abundance of nature and natural beauty on campus…nature and natural beauty that is ever changing, growing and adapting. As our seasons come and go in the natural process set by God, we can all think of springtime when seeds are sown and new opportunity becomes life. In our Woods this is true for the mighty oak tree as it sheds acorns in hopes of growing new trees.
Saint Mary-of-the-Woods College has many traditions tied to our Woods. We recognize the potential and strength of the acorn in our Woods as we recognize the potential and strength of each of you. You have weathered many storms, you have been planted here and we look forward to seeing you grow into a confident, equipped professional for your field of study.
Dr. King…I am so pleased to officially hand over this class of students to you as they begin their growing process in our Woods. Within this box is an acorn for each of the new students here today; please watch over them as they grow and develop in the coming years.
Dr. King…I present to you the class of 2025.
---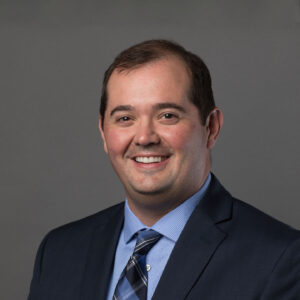 Randolph serves as the Vice President for Enrollment Management and Institutional Technology and has been with SMWC since May 2015. He leads athletics, admissions, financial aid, information technology and institutional research at The Woods. He has more than 20 years of experience in higher education, much of which has been spent working with adult learners and online educational delivery. As a servant leader, Randolph is very involved in building community, on campus and off through his work with various groups throughout the Wabash Valley. He is a member of the President's Cabinet, chair of the Woods Online Task Force and is actively involved with the Aspire Even Higher Strategic Plan. He holds a bachelor's degree in business administration from Northwood University and an MBA from Indiana Wesleyan University. A lifelong resident of Vigo County, Randolph lives on his family farm in southern Vigo County with his wife, Beth and their two children, Caleb and Madison.