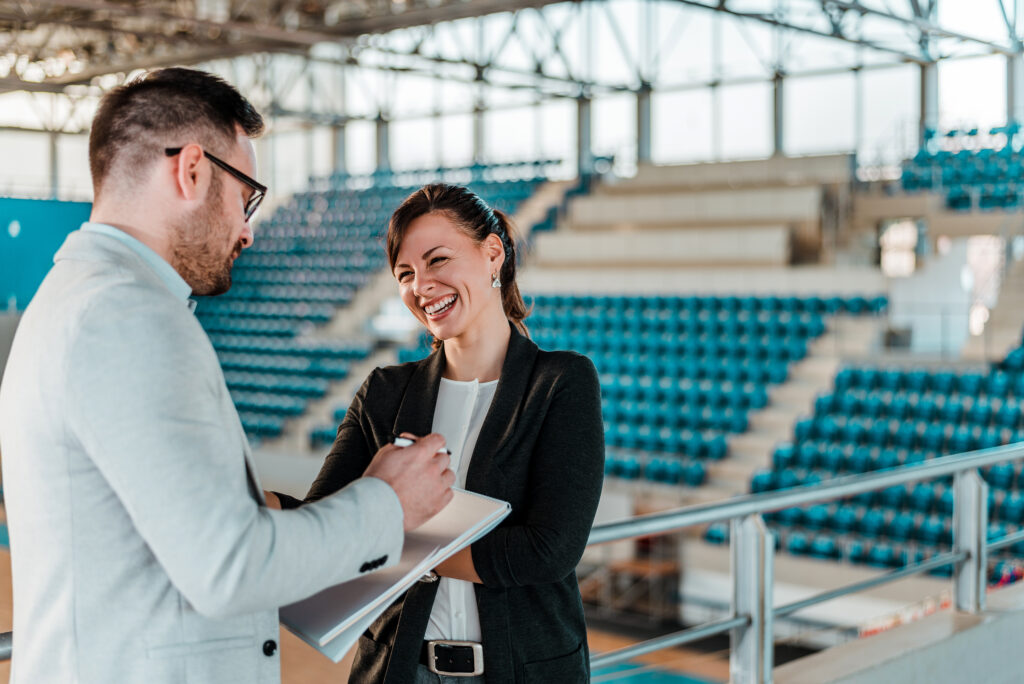 Estimates for job growth in sport management are higher than average for some areas in this field through 2028. A sport management degree from Saint Mary-of-the-Woods College can help you achieve the job of your dreams in the sports industry. In addition to gaining skills in leadership, communications and business, you'll also gain a better understanding of marketing trends, complex issues in sport management and areas of professional, intercollegiate and recreational sport. The preparation you will receive at SMWC will allow you to pursue your career in professional sports, intercollegiate athletics, interscholastic sports, fitness, health/wellness, or admission to graduate school. Check out eight careers you can pursue with a sport management degree.
1. Sport Coach
As a sport coach, you will serve as both a role model and authority to athletes. Balancing encouragement with "tough love" can often be the case in this career as it will be your job to push your athletes to be the best they can be. Skills in organization, communication and observation will be essential in this career.
Job tasks can include:
Scheduling pre-season, season and post-season practices
Checking in with athletic trainers to ensure all athletes stay healthy/heal from injuries
Create practice agendas and drills for daily practice sessions
2. Personal Trainer
Although a personal trainer can often hold one-on-one classes, it is just as important for a trainer to know their clients and push them to live a healthy lifestyle. From offering advice for meal plans to having bi-weekly check-ins with your clients, building a foundation of trust with your clients is important in this profession.
Job tasks can include:
Creating workout plans, meal plans and hydration schedules for clients
Having weekly meetings to ensure clients are physically and mentally ok with their journey
Schedule weekly classes with individuals or groups
3. Athletic director
As an athletic director, not only do you oversee athletic events, but you also oversee all coaches and their teams to ensure the correct protocol is being met and that all sports are being conducted well. In addition to being the point person for athletic events, you also represent the entire athletics department during corporation meetings, annual conferences and more.
Job tasks can include:
Scheduling sports games, matches and championships (if facility hosts)
Conducting weekly meetings with facility or maintenance teams to ensure all athletic complexes are kept in order
Approve all athletic teams' schedules before seasons begin
4. Sports Contract Analyst
Specific to collegiate and professional sports, a contract analyst is responsible for helping companies avoid contractual disputes and financial losses. Being detail-oriented is essential in this career as you will often be the point of contact if anyone has concerns with a contract or important documents for an agreement with your company.
Job tasks can include:
Analyzing contracts
Crafting counter offers or replacement contracts after being reviewed
Represent company at different committee and contract meetings
5. Events Coordinator
Relating to sport management, being an events coordinator can mean a variety of tasks. From planning athletic partnerships and sponsors to charring different event committees. Skills in communication are vital as you'll constantly act as social butterfly in this career.
Job tasks can include:
Reserving dates for important events
Organizing caterers, entertainment, etc. for important events
Brainstorm theme ideas for different events when needed
6. Recruitment Manager
Spotting talent, character and potential in athletes is the main priority of a recruitment manager. No matter the sport or how successful you want the program to be, it's important to recruit athletes that are a "good fit" for both your team and institution/company dynamic. Communication is key in this career as well as being personable as you'll constantly be forming relationships with potential recruits.
Job tasks can include:
Scouting athletes at different sport matches
Having one-on-one meetings with recruits and families
Coordinate schedules with coaching staff and athletes for meet 'n greet events
7. Sports Agent
Although a sport agent continuously searches for talented athletes, don't confuse them with scouts or coaches. A sport agent represents an individual athlete. They ensure an athlete's reputation is maintained and handle any kind of public relations needs they might need assistance with. Sport agents have a strict protocol they must follow, so it's crucial to be aware at all times in this career.
Job tasks can include:
Forming relationships with athletes
Send athlete's statements to press when needed
Ensure that athletes attend specific events for networking and social purposes
8. Sports Marketer/Athletic Communications
In the world of news writing and public relations work, a sport marketing or someone in athletic communications can have a variety of tasks to take care of. From graphic design needs to sending important email blasts for marketing purposes, being in Athletic communications requires flexibility and adaptability as the marketing world continues to evolve.
Job tasks can include:
Writing sports pieces and game recaps
Sending important dates/athletic schedule information to media
Upkeeping athletics social media to ensure a strong organic marketing presence.