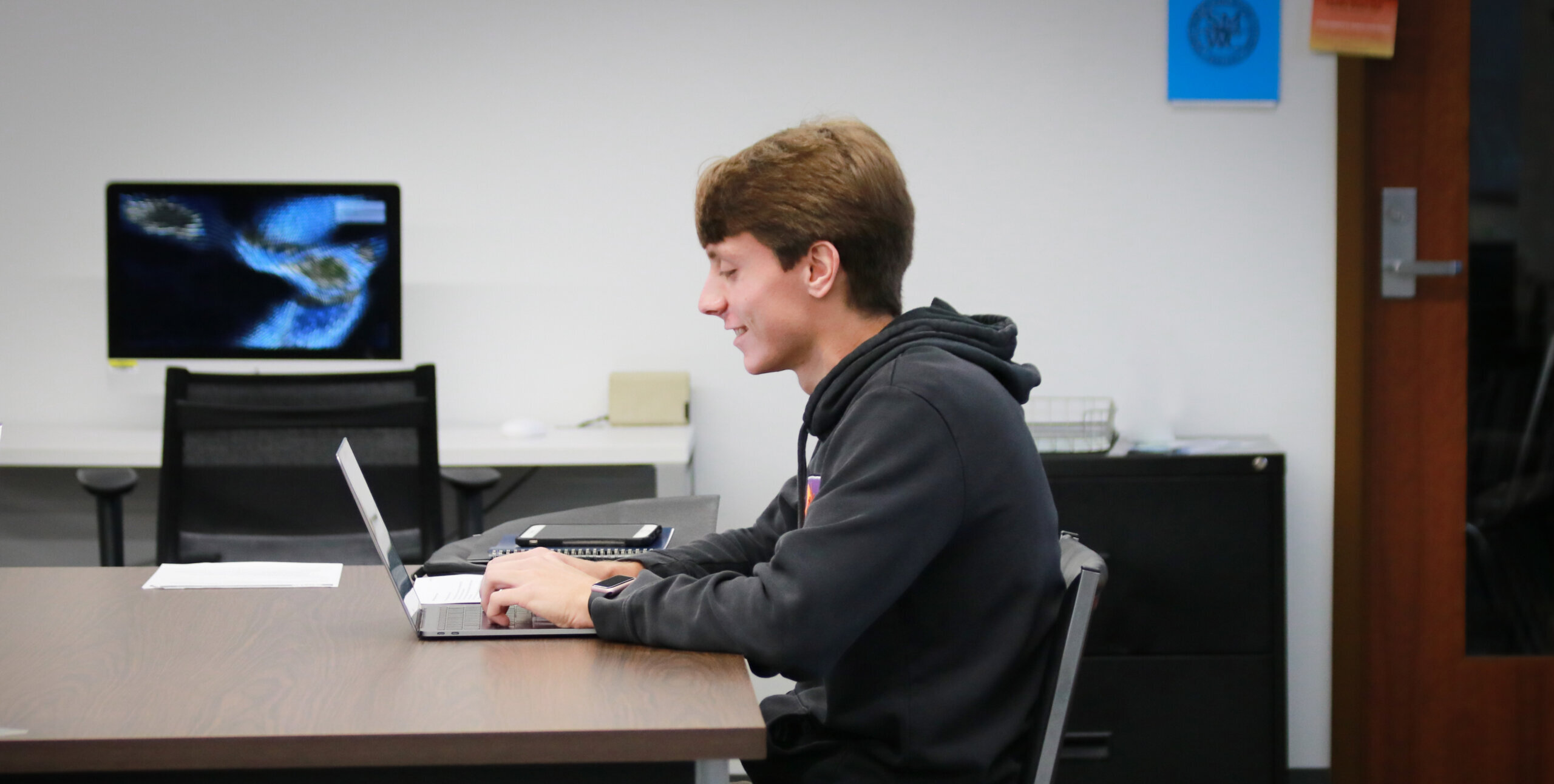 Business Administration Degree Program
An online or on-campus business degree from SMWC prepares you for a rewarding career in business. The bachelor's degree in business administration is available for you to pursue as an online or on-campus degree-seeking student. Business administration may also be added as a minor.
Bachelor of Science (B.S.) in Business Administration Overview
There's one in just about every progressive office: someone who quickly grasps the "big picture" of both how things work and how to move things forward. Behind that "go-to-person" savvy, you're likely to find a person who studied business administration.
Businesses need people who understand marketing, accounting and management. If you are attentive to detail, hands-on and can see the bigger picture of a project or venture, a business administration degree, offered on-campus and online, is a great fit for you. If you are looking for an online business administration degree, you can't go wrong with Saint Mary-of-the-Woods College which is consistently listed as one of the best online undergraduate programs in the U.S.
Business Administration Career Paths
The business administration major affords students a great deal of flexibility in careers in business. Business majors can choose which courses to take to satisfy 21 of the required 48 hours. This allows flexibility to create a broad range of careers in business or prepare a student for a specific area of interest within business administration degree jobs.
Business majors can develop a course of study that could lead to such business administration jobs as:
Small business management and related entrepreneurial activities
A wide variety of entry level administrative and managerial positions
The non-for-profit and healthcare industries
Graduate studies in business (MBA) or law
Check out our blog, 6 careers you can have with a business administration degree, to learn more about careers in business!
Business Transfer Policy
Since the world is constantly changing, caution is used in accepting business transfer credit based on the age of the credits. Generally, the course must have been taken within 10 years of enrollment at the college. Some exceptions to this 10-year rule may apply when the student is currently employed in the field. One-half of the total hours required for each business major must be taken at Saint Mary-of-the-Woods College. These hours must include a minimum of 12 hours required in the major area (not the Business Core). Students also may choose to gain credit through a CLEP exam or Assessment of Prior Learning.
FAQs
What is business administration?
Business administration is the study of how a business operates. You see the "big picture" and can complete tasks in many different areas. Through coursework and internship opportunities, you'll learn a little bit about each area of a business that helps it function efficiently. Thinking about starting your own business? Entrepreneurship is a large focus of the business administration program at SMWC.
A Bachelor of Science degree in business administration takes approximately four years to complete at SMWC. Do you have college credit from another institution? No problem! The College works hard to ensure that you earn your degree in as little time as possible. And for the truly ambitious, Saint Mary-of-the-Woods College offers a 3 + 1 degree — three years of business administration undergraduate degree paired with a one-year intensive Master of Leadership Degree to graduate in four years with your master's degree. If you have ambition, we are going to help you knock it out of the park.
Why get a degree in business administration?
A degree in business administration from SMWC provides the knowledge and tools you need to succeed in any area of business. This degree prepares you to work in several different departments within an organization. Having a business administration degree gives you an advantage over others when being considered for promotions or job opportunities. The Department of Business and Leadership at the College is dedicated to ensuring their students succeed no matter what area of business they work in. You'll sharpen your technological expertise through hands-on learning in a small, collaborative learning environment.
What can you do with a business degree?
Whether you dream of becoming an entrepreneur or joining a large corporation, SMWC's program ensures you have the foundation in business needed to be successful. Many of our alums run their own businesses or hold executive positions both locally and across the country. Here's some jobs you can get with a business degree:
Business Analyst
District Sales Leader
Senior Project Manager
Chief Financial Officer
More career opportunities can be found on our blog: 6 careers you can have with a business administration degree.
What is the average annual salary of someone with a business degree?
As you look at starting salaries, keep in mind that the cost of living and opportunities to move with a career or industry sector should also factor into your decision. For instance, Indiana is known for job growth due to the lost cost of living. Your dollar simply goes further here.
Indiana: $64,000
Regional (Midwest): $70,000
National: $73,000